Shinobi 26: It's Summer! Last Ninja Race Intermediate Announcement! (夏だ!ラストニンジャレース中間発表!, Natsu da! Rasuto Ninja Rēsu Chūkan Happyō!) is the twenty-sixth episode of Shuriken Sentai Ninninger.
Synopsis
When the Ninningers come home, Yoshitaka tells them how they've each been faring in the Last Ninja race, but things seem off.
Plot
Masakage and Ariakenokata meet whom they believe is Nekomata. However, this is Youkai Mataneko, and Nekomata was the older brother of his second cousin's friend and taught him what it meant to be a Youkai and seeks revenge, using the scent of Nekomata to find the Ninningers' dojo.
The Ninningers come home from a theater to find Yoshitaka, who "reveals" the Last Ninja race results with unexpected outcomes: the placements are Fuuka, Nagi, Kasumi, Kinji, Yakumo and Takaharu respectively. It turns out that this is actually Mataneko in disguise, attempting to break the team apart. However, this fails, so he begins a quiz to change up the results until Kasumi baits him out with catnip.
Giving chase, the Ninningers transform and quickly beat the Youkai back. Panicking, Mataneko finds Kyuemon's mallet with the Yo Shuriken attached to it. Not knowing what it is, he uses it against AkaNinger Chozetsu, causing him to grow huge. Mataneko uses it on himself to battle, but ends up getting defeated when Shinobimaru joins the battle. Observing his defeat, Kyuemon retrieves his mallet.
The Ninningers ask Yoshitaka who would theoretically be in first place, to which he replies all of them are still at the starting line, save one, who hasn't even made it there (implied to be Kinji).
Cast
Suit Actors
Errors
Notes
DVD/Blu-ray releases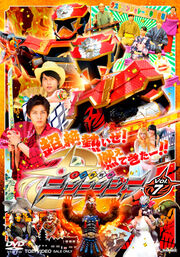 Shuriken Sentai Ninninger Volume 7 features episodes 25-28: Shinobi 25: It's Summer! Beware of Dracula, Shinobi 26: It's Summer! Last Ninja Race Intermediate Announcement!, Shinobi 27: It's Summer! Chozetsu Star is Born! and Shinobi 28: Race to It! The Kibaoni Ninja Squad.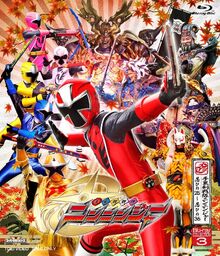 Blu-ray Collection 3 comes with 12 episodes.

External links
References
See Also
Community content is available under
CC-BY-SA
unless otherwise noted.