"Yeah! Real show!"

―Catchphrase
The Shen Minosaur (シェンマイナソー, Shen Mainasō) is a shen-themed Minosaur monster from the Warfare Tribe Druidon, created from the negative emotions of Masaaki Shiina, based on his regrets of giving up his dreams of being a film director to live up to his father's expectations as a firefighter.
Character History
to be added
Personality
to be added
Powers and Abilities
Fireballs: The Shen Minosaur can shoot purple fireballs from the coral ports on its head.
Fog Generation: The Shen Minosaur sprays out a fog from the coral ports on its torso to conceal itself from its enemies.
Illusion: With its fog, the Shen Minosaur can make its enemies perceive things differently from what they truly are.
Arsenal
Barb Blades: The Shen Minosaur has a pink barb on each arm that can extend into a blade for combat.
Minosaur Info
Minosaur Attribute : Marine Monster
Place of Distribution : Tower of Fog
Experience Point : 496
Behind the Scenes
Portrayal
Notes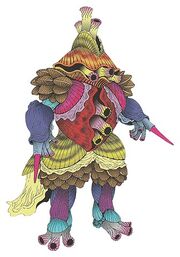 This Minosaur is based on a Shen , a shapeshifting dragon or sea monster in the form of a giant clam from Chinese mythology that is believed to create mirages.

Due to its origin, the Shen Minosaur is the first Minosaur not to be based on a creature from Greek and/or European mythology but from Eastern Mythology.

The Shen Minosaur is the first Minosaur to survive after the Drunn Soldiers was destroyed by Ryusoul Red.
See Also
References
Community content is available under
CC-BY-SA
unless otherwise noted.