"Oh no you don't!"
―Shadow Pink Turbo Ranger's final words before her demise[src]
Shadow Pink Turbo Ranger is an Evil Ranger clone create by Shadow Chromite. She is a member of the Shadow Rangers and the last Shadow Ranger to be destroyed by Tommy Oliver.
History
The Shadow Chromite stole the powers of Adam, Tanya, and Kat when they morphed and clones them with their Ranger powers, the Shadow Pink Turbo Ranger along with the other Shadow Rangers easily defeated and captured them. She was present when Shadow Chromite created the Shadow Blue Turbo Ranger, led by Shadow Chromite's fight against Tommy and captured Justin. She was in charge of watching over the Rangers if they try to escape but the Shadow Pink Turbo Ranger is destroyed when Tommy destroyed the lights of the Chromite cave.

TV STORY-Shadow Rangers
Abilities
Skilled Fighter: Since she is a copy of the original Pink Turbo Ranger, she has the same figthing style as Kat.
Weaknesses
Darkness: She can't fight in places where there is darkness, due to she is made of refracted light.
Shadow Pink Turbo Ranger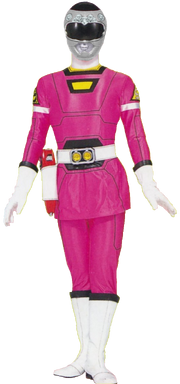 Arsenal

This form is exclusive to PRT Episode 4

Behind the Scenes
Portrayal
Appearances
References