"Red Sentinel Ranger! Activate!"
―Activation call[src]
The Sentinel Morpher is a special brace morpher designed to allow Mack to access his Red Sentinel Ranger mode. Despite it being too powerful for humans to use as it is robot tech, Mack, being an android, is the only Overdrive Ranger who can use the Morpher. However, now that Mack is a human due to the power of the Corona Aurora recreating his body as no longer bearing his android features, it is unknown if he can still utilize this morpher.
Morphing sequence
By using the activation call "Red Sentinel Ranger! Activate!" Mack presses the ignition button on the Sentinel Morpher and hurls Excelsior who transforms into the Sentinel Knight's battle mode and then explodes into small parts to form around Mack's body. Excelsior then forms onto Red Overdrive Ranger's suit to form the armor while his helmet's mouthpiece and flashlight features are recolored from silver and orange respectively to gold and green - the transformation is complete.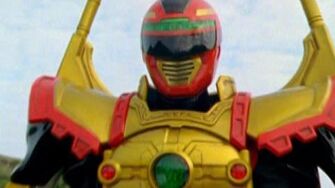 Notes
Like most Disney era Battlizer morphers, the Sentinel Morpher is a repaint and remold of a Sixth Ranger Morpher, in this case the Mercury Morpher.
The Morpher is absent during scenes of Mack holding Excelsior in preparation for morphing into his Red Sentinel Ranger form but appears during the morph sequence; it is unknown how the Morpher appears as there is nothing which serves as an onscreen summoning of the Morpher itself.