"I-impossible!"
―Salamandam when tied up by Magi Red and his final words before his first death.
"Damn you!"
―Salamandam after his air support was destroyed and his final words before his death.
Biography
He is originally sent to Earth in order to cause massive eruptions via the volcanoes. However, the plan was ruined when the Zangyack battleship he was on ran course with the Gokai Galleon, which was on it's way to find the first Greater Power found by Navi: On the surface, Salamandam decides to take out the Gokai Galleon crew before he can resume his mission, overwhelming them with an attack that separates Captain Marvelous and Don.from the rest, which in turn leads the two to Kai Ozu. His Gormin forces are wiped out by the other three Gokaigers assuming the form of Black Rangers and is driven off when they assume the forms of White Rangers. Unfortunately, this leads him to Kai's final courage test where he grabs on to Marvelous, though he was able to shoot him away. Once he resurfaces, the reunited Gokaigers fight him assuming the forms of the Magirangers before defeating him using their Gokai Blast attack,
After Insarn revives him and three Sugormin with the Gigant Horse's enlargement cannons, the Gokaigers form GokaiOh, which withstands the Sugormin's jet fighter mode before the Gokaigers' courage unlocks the Greater Power through the Magiranger keys. With it, GokaiOh becomes Magi GokaiOh, and after destroying the Sugormin, manage to destroy Salamandam with the Gokai Magi Bind.. Ep. 3: Changing Courage into Magic
Profile
Salamandam was originally an alien born on a volcanic planet and has the ability to emit explosive heat from his hypodermis. Insarn enhanced him with thermal conduction plugs and a fusion furnace.
He was in charge of Operation Earth-Scorching Volcano (

地球火山灼熱作戦

Chikyū Kazan Shakunetsu Sakusen

).
Height - 202cm (Giant Form - 50.5m)
Weight - 152kg (Giant Form - 380.0t)
Behind the Scenes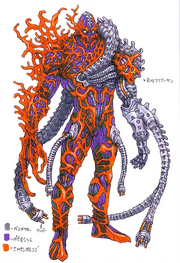 Salamandam is voiced by Masuo Amada (

天田 益男

Amada Masuo

) in his first Super Sentai role.
He was designed by Yasushi Nirasawa.
His motif is coral.
His name is derived from the mythical salamander, a fiery spirit in the form of a lizard.
Notes
He is the first Gokaiger monster:

To be in a tribute episode to a previous Sentai.
To be defeated by a Greater Power.
To not directly attack the city with an army, his goal being to ignite all the volcanoes of Earth
That doesn't wield a gun in battle.
One of many Action Commanders not adapted for Power Rangers Super Megaforce due to Nickeleodeon's 22 episode limit.
Coincidentally, episode 3 of Gokaiger's predecessor show: Goseiger also had a Sentai-exclusive monster: Yuzeikusu of the Ice & Snow that wasn't adapted for regular Megaforce.

Interestingly, one was ice and the other fire.
Being the monster of the Magiranger tribute, he is similar to Absolute God N Ma (his goal to make the Earth a wasteland) and Wolzard (being fire-themed, though only in his true identity as Heavenly Saint Blagel)
Appearances
External links
Community content is available under
CC-BY-SA
unless otherwise noted.