"Raise the Dragon Tanks! Fire!"

―Saber-One
Saber-One is a designation assigned to a Sabertooth Sentry commander of Lord Drakkon's Ranger Sentry army.
Character History
Saber-One participated in the opening battle of Lord Drakkon's Grand Campaign; an assault on the Samurai Rangers' Shiba House. On Drakkon's command, Saber-One gave the order to raise the Dragon Tanks and have them open fire upon the Samurai Rangers. Mighty Morphin Power Rangers (Boom! Studios) Issue 26
Arsenal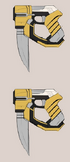 Unnamed Gun weapons: The Sabertooth Sentries are armed with twin handguns that have bayonet-like dagger blades attached to the bottom of the nozzles and a yellow and black handle connected to the guns. This gives the weapons versatile use in ranged and close quarter combat. The color and blades of the weapon make it a twisted militaristic version of the Yellow Ranger's Power Daggers.
References
Community content is available under
CC-BY-SA
unless otherwise noted.