Wiki Targeted (Entertainment)
Play Sound
"This is the castle I love!"
―Final words before Death
Ryugu Tamatebacco (リューグ・タマテバッコ, Ryūgu Tamatebakko) is an oarfish-themed Gangler Monster from the Interdimensional Crime Group Gangler, equipped with the "Plunge/Plonge" treasure from the Lupin Collection.
Physical Appearance
True Form: Ryugu Tamatebacoo's head is a white skull with red hair, his body is a blue oarfish head on the right, his red and blue limbs are oarfish-like, his Gangler safe was on his black belly, and his weapon the Shumokku Nokogilance is a green spear with the white blade tip that resembles a sawfish's nose and jaw.
Human Form: From Ryugu Tamatebacoo's photo, his human form is a male man with a red Mohawk, glasses, a red leather jacket, and he seems to be wearing a black outfit.
Character History
to be added
Personality
to be added
Powers and Abilities
Human Disguise: Like every Ganglers, Ryugu Tamatebacco have the special ability to disguise himself as a hitman to hunt for treasures.
Age Manipulation: Ryugu can launch smoke from the right portion of his chest (the oarfish mouth) that can accelerate a person's age to their elderly years.
Water Bolts: Ryugu can generate and launch bolts of water from his hands.
Land Swimming: Due to the "Plunge/Plonge" treasure equipped in his safe, Ryugu can swim around in land and through walls as if they were water.
Arsenal
Shumokku Nokogilance (

シュモックノコギランス

Shumokku Nokogiransu

): A spear with the blade tip resembling a sawfish's nose and Ryugu's primary weapon.
Behind the Scenes
Portrayal
Profile
Height: 190 cm (Giant: 47.5 cm)
Weight: 209 kg (Giant: 522.5 Tons)
Criminal Record: Forcibly aging a person
Lupin Collection: "Plunge/Plonge" Shark Fins
Gangler Safe Location: Torso
Password: 3-1-4
Notes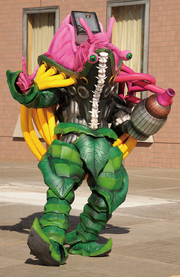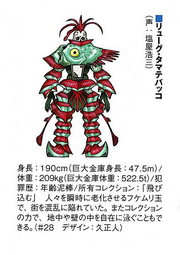 Animal Theme: Oarfish
Possible Prehistoric Basis: Agrostichthys parkeri
He is the first Gangler Monster to be defeated by LupinKaiser Magic.
Ryugu Tamatebacco's suit contains elements of Namero Bacho's suit.
Ryugu Tamatebacco's ability to grow humans into old age is very similar to Zakurobacuum's ability from Bakuryuu Sentai Abaranger.
His weapon is a rebuilt and repainted version of Rabroom Jaws' weapon.
Ryugu Tamatebacco is the third Gangler Monster to have human form not to be shown on screen (albeit it did appear in a photograph).
Ryugu Tamatebacco's name may be based on the japanese word for giant oarfish (

リュウグウノツカイ

Ryūgūnotsukai

).
Ryugu Tamatebacco's name may be based on Ryūgū-jō (Dragon Palace Castle) and Tamatebako (Jewel Box) from the story of Urashima Tarō.

His ability to raplidy age a human also draws insperation from the Urashima Tarō story (IE: after Urashima Tarō opens the Tamatebako he recived from Otohime (the princess of the undersea palace Ryūgū-jō; who warned not to open it), a cloud of white smoke arose thus turning him to a white-haired old man).
The "bacco" part may also be derived from "Tobacco", as a reference to smoking, as this Gangler's natural ability is his smoke attack.

Ryugu Tamatebacco's safe passcode is a reference to the first three digits of Pi.
References
Community content is available under
CC-BY-SA
unless otherwise noted.