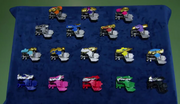 The RyuSouls (リュウソウル, RyūSōru) are a set of items used by the Ryusoulgers.[1]
Overview
Shaped like prehistoric animal heads, the RyuSouls can butterfly open from Soul Mode to Knight Mode, where the neck base forms a shield as the crest forms either an arm wielding a weapon or an exagerrated specialized arm. The stronger Kyo/RyuSouls increase the armor's coverage to the chest and the other arm not wielding the weapon that activates it, while the shield is replaced with the head/heads of the KishiKyoRyu/Kishiryu on one or both shoulders. Forming a Mecha head, a RyuSoul in Knight Mode turns around to reveal the Mecha head, which subsequently has the top half of the head in Soul Mode as a form of antenna. This is only seen with the Kyo/RyuSouls with known KishiKyoRyu/Kishiryu.
History
to be added
List of Known RyuSouls
These RyuSouls are used by the Ryusoulgers to unlock their powers and forms.
These RyuSouls are used by the Ryusoulgers to unlock special arm-mounted armaments.
These RyuSouls (often called KyoRyuSouls (キョリュソウル, KyoRyūSōru) or TsuyoRyuSouls (強リュウソウル, TsuyoRyūSōru, lit. Strong RyuSouls)) are used by certain Ryusoulgers to unlock special power-up armors.
These RyuSouls are special toy-exclusive variants of the Ryusoulgers main RyuSouls. These Souls are identical to the transformation RyuSouls, the only difference being the "shield" design of the Souls' Knight Mode.
These are RyuSouls that do not fit any of the preceding categories.
Hajimari no RyuSoul (

はじまりのリュウソウル

Hajimari no RyūSōru

, lit. "RyuSoul of the Beginning)[1]: The raw, amber form of the RyuSouls.[13] When Ryusoul Black first used it, it wasn't able to activate for some unknown reason. When Master Red got ahold of it, it transformed into the Red RyuSoul.
BlankSoul (

ブランクソウル

BurankuSōru

): The initial form of the auxiliary RyuSouls.
Unused RyuSouls
These are RyuSouls that have sounds programmed into the DX Ryusoul Changer and DX Ryusoul Ken, but have no confirmation regarding their presence in the show, and exist here for completion's sake.[14][15][16][17][18][19][20]
AtariSoul (

アタリソウル

AtariSōru

, lit. Correct Soul)
Yamamori RyuSoul (

ヤマモリリュウソウル

Yamamori RyūSōru

, lit. Piled RyuSoul)
MerikuriSoul (

メリクリソウル

MerikuriSōru

, lit. Merry Christmas Soul)
ShiawaseSoul (

しあわせソウル

ShiawaseSōru

, lit. Happiness Soul)
OshougatsuSoul (

お正月ソウル

OshōgatsuSōru

, lit. New Year's Soul)
DaisukiSoul (

ダイスキソウル

DaisukiSōru

, lit. Love Soul)
HamigakiSoul (

ハミガキソウル

HamigakiSōru

, lit. Toothpaste Soul)
JankenSoul (

ジャンケンソウル

JankenSōru

, lit. Rock-Paper-Scissors Soul)
NatsuMatsuriSoul (

夏祭りソウル

NatsuMatsuriSōru

, lit. Summer Festival Soul)
HieHieSoul (

ヒエヒエソウル

HiehieSōru

, lit. Freezing Soul)
MokuMokuSoul (

モクモクソウル

MokumokuSōru

, lit. Billowing Soul)
JaraJaraSoul (

ジャラジャラソウル

JarajaraSōru

, lit. Jingling Soul)
TokumoriSoul (

トクモリソウル

TokumoriSōru

, lit. Large Portion Soul)
SuperSentaiSoul (

スーパー戦隊ソウル

Sūpā Sentai Sōru

)
KamenRiderSoul (

仮面ライダーソウル

Kamen Raidā Sōru

)
SuperHeroTimeSoul (

スーパーヒーロータイムソウル

Sūpā Hīrō Taimu Sōru

)
TVAsahiSummerFestivalSoul (

テレ朝夏祭りソウル

TerebiasahiNatsuMatsuriSōru

)
NewHero!Soul (

ニューヒーロー!ソウル

NyūHīrō!Sōru

)
BirthdaySoul (

バースデーソウル

BāsudēSōru

)
LuckyColorSoul (

ラッキーカラーソウル

RakkīKarāSōru

)
Toyline
The toyline version of the RyuSouls have a spring loaded mechanism to switch them from Soul Mode to Knight Mode, This particular feature was previously used in both the One-Click Ranger Key Set and the Super Megaforce Legendary Ranger Key toyline. The toyline feature Ryusouls based on the red ranger's mecha from previous series, similar to the Ressha from Ressha Sentai ToQger.
Notes
The RyuSouls have similar elements from previous collectibles such as:
Appearances
External links
References
Community content is available under
CC-BY-SA
unless otherwise noted.