"Ay-yi-yi, this place is a disaster!"
Actually, this article/section is in need of clean-up. You can help us out by editing it!
Reason: Character history missing and incomplete 'Personality' section.
Ryouga Hakua (伯亜 凌駕, Hakua Ryōga) is AbaRed (アバレッド, Aba Reddo) of the Abarangers.
Ryouga is 22 years old at the beginning of Abaranger.
History
Abaranger
Ryouga was an environmental protection investigator from the United States before he was chosen by Bakuryu Tyrannosaurus to become AbaRed and later by the Bakuryu Styracosaurus to become AbareMax (アバレマックス, Abare Makkusu).
He was given guardianship of Mai after his brother and sister-in-law died and does his best to raise her.
He eventually gained the power to become AbareMax.
In the epilogue, he returns to the USA, and travels across the country along with Mai.
Tsuribaka Nisshi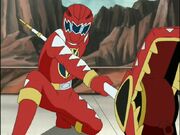 In the world of Tsuribaka Nisshi, the Abarangers are adored by fisherman Densuke Hamasaki's son Koitaro, who takes him to an Abaranger stage show. Faced with a shortage of fish at Tokyo Bay which is believed to be the result of a monster, Densuke takes his fishing boat out in search of the monster and experiences a dream in which he, in his Fishing Fool Mask persona, teams up with the Abarangers to defeat the monster. Waking up, Densuke assures Koitaro that Fishing Fool Mask and the Abarangers are working to beat the monster. Sure enough, the fish return to Tokyo Bay soon after.

TV STORY-Tsuribaka Mask vs. Abaranger

Dekaranger vs. Abaranger
To be added

TV STORY-Tokusou Sentai Dekaranger vs. Abaranger

Boukenger
Red Spirit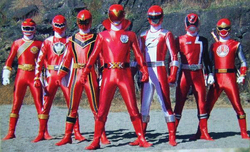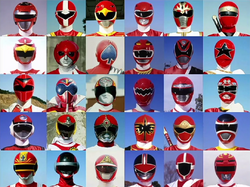 As the twenty-seventh Red, AbaRed's Red Warrior Spirit was embodied by AkaRed.
In his role call, he briefly changed to GaoRed, HurricaneRed, AbaRed, DekaRed, MagiRed, then back to himself as a demonstration of his power.
While fighting alongside Bouken Red against Time Demon God Chronos. AkaRed recreated AbaRed's Tyranno Rod to use against Chronos while Bouken Red wielded his Bouken Javelin.

TV STORY-GoGo Sentai Boukenger vs. Super Sentai

Super Sentai Versus Series Theater
Ryouga's appearances in the "Versus Series", Abaranger vs. Hurricaneger and Dekaranger vs. Abaranger, are featured in the Super Sentai Versus Series Theater, hosted by the heroes of Tensou Sentai Goseiger. Alata (Gosei Red) also dresses as Ryouga in the Abaranger cosplay.

Gokaiger
Legend War
Years later, Ryouga fought alongside not only his own team, but every single Sentai ranger in existence, against the Empire of Zangyack when it attacked the Earth in the Great Legend War. After fighting against hundreds of Gormin and their Zgormin commanders. Akarenger noticed the fleet moving towards them, he gathered all the Rangers together and gave them the order to sacrifice their powers to wipe out the first invasion's armada. Ryouga is one of several rangers (portrayed by a stand-in) who could be seen in the background when the Goseigers awoke after sacrificing their powers.

TV STORY-Ep. 1: The Space Pirates Appear

TV STORY-Gokaiger Goseiger Super Sentai 199 Hero Great Battle
Farewell Space Pirates
After the defeat of Ackdos Gill, the Gokaigers returned all the Ranger Keys to the former Sentai heroes. It is assumed Ryouga and his teammates received their keys allowing for them to utilize their powers once again.

TV STORY-Final Ep.: Farewell Space Pirates

Super Hero Taisen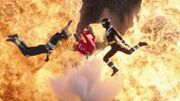 Ryouga, alongside Yukito and Ranru (AbareBlack and AbareKiller were absent), among the majority of the Super Sentai heroes, was caught up in the "Super Hero Taisen" incident which eventually resulted in the Super Sentai teams and Kamen Riders joining forces to defeat both Dai-Zangyack and Dai-Shocker. During the final battle, he is seen with Riderman fighting Long.

TV STORY-Kamen Rider × Super Sentai: Super Hero Taisen

Kyoryuger vs. Go-Busters
Ryouga was kidnapped by Neo-Geilton while the Go-Busters were trying to rescue him. He, along with Geki fought the Kyoryugers because they were brainwashed by Neo-Geilton and Neo-Grifforzer respectively.
Later, Ryouga and Geki suffered from losing their Dino Hope as it was transferred to Space War God Boldos, so the monster could be born. When the Kyoryugers arrived to save them, he warned them not to come, but they ended up also losing their Dino Hope. The Go-Busters then arrived to save them but the Red warriors were taken by Neo-Geilton and Neo-Grifforzer. However, once the Go-Busters destroy the satellite containing the Dino Hope, Ryouga, Geki and the Kyoryugers regain it.
The other Dinosaur Sentais arrived as AbareBlue threw the Super Sentai Zyudenchi to Ryouga and Geki. They used it to summon the Bakuryu Tyrannosaurus and Guardian Beast Tyrannosaurus. They then transformed and fought back. After the Abarangers managed to defeat Neo-Geilton, the Zyurangers could not defeat Neo-Grifforzer by themselves so the Dinosaur Sentais combined their weapons to defeat Neo-Grifforzer. Even though they combined their weapons, Neo-Grifforzer was still alive so he absorbed their Dino Hope. He launched himself to Space War God Boldos. Once Space War God Boldos landed on Earth, the Dinosaur Sentais entered their mechas and started fighting the monsters. However, Space War God Boldos proved to be too powerful. The Go-Busters arrived to help them, allowing them to defeat Boldos. After the fight, he, along with Geki and Dantetsu watched the Kyoryugers and Go-Busters.

TV STORY-Zyuden Sentai Kyoryuger vs. Go-Busters: Dinosaur Great Battle! Farewell, Eternal Friends
Zyuohger vs. Ninninger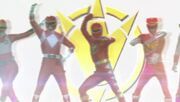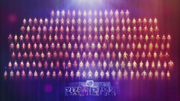 AbaRed appeared as part of a conference of the first 38 Reds led by Red Falcon, who addressed the Ninningers and Zyuohgers as the greater Super Sentai pantheon intervened to save them from defeat at the hands of the titanic Gillmarda. Empowering the Combination Nin Shuriken to form Wild Tousai Shuriken King, the first 38 Super Sentai further imbued their successors with the power to perform the Zyuoh Ninnin Super Sentai Burst, destroying Gillmarda with the combined power of all 40 Super Sentai.

TV STORY-Doubutsu Sentai Zyuohger vs. Ninninger: Message from the Future from Super Sentai
Kikai Sentai Zenkaiger The Movie: Red Battle! All Sentai Rally!!
Ryouga alongside with his Sentai Red Ranger predecessors appeared to help the Zenkaigers.

MOVIE STORY-Kikai Sentai Zenkaiger The Movie: Red Battle! All Sentai Rally!!

Though he was seemingly erased alongside his team as a result of Asmodeus' manipulations, he and, presumably, his corresponding team were restored back into existence once Touma Kamiyama had helped Shotaro regained his passion in drawing out the superheroes that he wants to draw out.
During the climatic final battle itself, he can be seen fighting alongside TyrannoRanger, Kamen Rider OOO, Kyoryu Red and Zenkai Juran.
Personality
Ryouga is an optimistic team leader. Though he's overly confident, he has an extremely good nature and is friendly, warm heart, and loving; he doesn't hate anyone.
AbaRed
AbaRed's insert theme is Taiyou Wo Ikko.
Behind the Scenes
Portrayal
Design
to be added
Etymology
As noted by Hoji Tomasu in Dekaranger vs. Abaranger, Ryouga's surname come from "Hakuaki" (白亜紀, "Hakuaki"), the term for the Cretaceous period.
Legend Sentai Devices
Notes
The reason why Ryouga's Ranger name is AbaRed instead of AbareRed is due to "abare" (アバレ abare) and "red" (レッド reddo) share the same "re" (

レ

) kana; thus, "AbaRed" is eventually used to avoid redundancy.
Appearances
See Also
External links
References