Doctor Strange in The Multiverse o Madness - The Loop
Play Sound
For the minor character in Power Rangers Samurai, see Ryan (Samurai).
Ryan Mitchell is the Titanium Ranger of the Lightspeed Rangers. He is also referred to as Lightspeed Rescue Titanium Ranger, though this is more in reference to the show than a proper label.
Before joining Lightspeed, Ryan served as the main antagonist of his introductory episodes "From Deep in the Shadows" and "Truth Discovered".
History
Early Life
When Ryan was young, he was involved in a car accident along with his father and his sister while Captain Mitchell was driving Ryan and Dana home. All three were suspended over a cliff. Captain Mitchell had a secure grasp of Dana, but Ryan was hanging on by his father's shoe. The spirit of Diabolico appeared and offered a deal: Diabolico would save the child, but in payment he would raise the child himself, and Captain Mitchell would not see him again until his 20th birthday. Captain Mitchell at first refused, but relented when Ryan began to fall, but Diabolico's spirit saved him. Mitchell said it was the hardest decision he ever had to make.
Lightspeed Rescue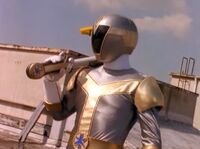 Ryan was raised by the demon Diabolico, who poisoned his mind telling him that his father had rejected him, favoring Dana. Diabolico instructed Ryan to steal the prototype Titanium Morpher from the Aqua Base and destroy the other Power Rangers (including his sister Dana) with the Titanium Power. He nearly succeeded, becoming the Titanium Lightspeed Ranger, but Ms. Fairweather brought the newly-developed V-Lancers, which overpowered Ryan. Just as the Power Rangers were about to destroy Ryan, Captain Mitchell told them to stand down and called them back and also told them the terrifying story of what happened to Ryan after he told them the reason of why Mitchell ordered the Power Rangers to not fire at Ryan. After some recall of his memories, Ryan rejected Diabolico and joined the Lightspeed Rangers. In response, Diabolico placed a cobra tattoo on his back, which would move up if he morphed and would kill him when it reached Ryan's neck. Eventually, Ryan manages to find the original cobra and destroy the curse, allowing him to transform freely.
After a while, Ryan left to find more information about the demons and how to defeat them, although he left the team with the Max Solarzord to use if they required the extra firepower. He eventually returns to the team to tell them about Queen Bansheera's plan to bring back the demons. Ryan later aided the Lightspeed Rangers in defeating Bansheera once and for all.
Time Force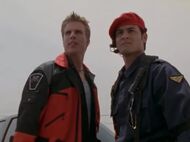 When Vypra came back to life, she summoned the Super Demon Quarganon and was ready to fight the Lightspeed and Time Force Rangers along with five Demon Warriors, Ryan showed up to help along with his Sixth Ranger successor, the Quantum Ranger, with whom he teamed up in order to destroy one of the Demon Warriors.

TV STORY-Time for Lightspeed
Dino Thunder
The Titanium Ranger was featured in a chronicle of Power Ranger history compiled by Tommy shortly after he formed the Dino Rangers, which was found by the nascent Ranger team in the Dino Lab.

TV STORY-Legacy of Power
Super Megaforce
Ryan and the other Lightspeed Rescue Rangers returned as part of the army of Legendary Rangers that helped the Mega Rangers defeat the Armada once and for all, fighting in a huge battle against hundreds of X Borgs and dozens of Bruisers.

TV STORY-Legendary Battle

Video game appearances
Power Rangers Key Scanner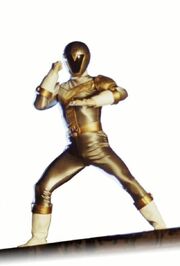 Ryan as Titanium Ranger, appears in the app videogame Power Rangers Key Scanner, amoung various other Rangers teams.

Power Rangers Legacy Wars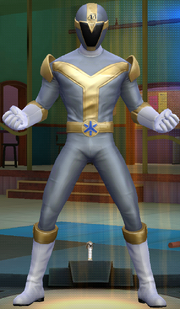 Ryan as Titanium Ranger is among the Rangers who feature in Power Rangers Legacy Wars, he is a Epic (Leader), Epic (Assist) character, and represents Lightspeed Rangers alongside Carter Grayson.

Abilities
Family
Titanium Ranger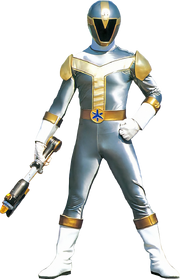 Arsenal
Zords
Appearances: LR Episodes 11-19, 39, 40, TF Episode 33, SM Episodes 20 & LBEV

Morph and Roll Call
Legendary Ranger Devices
Behind the Scenes
Portrayal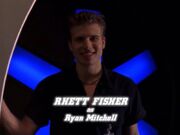 Notes
Appearances
See Also
References