Rugger Megas (ラガーメガス, Ragāmegasu, 46) is a Neo Mecha-Gigan of Neo Empire Gear, piloted by Monster
Overview
A Neo Mecha-Gigan with a football theme, being extremely strong offensively and using giant footballs as projectile weapons. It also possesses projectile resistant armor and an electrified helmet.
History
Rugger Megas is utilized by Monster after a scheme to use seed pods disguised as footballs to turn Tokyo into a living jungle falls apart. It is extremely powerful to the point that Bio Robo can't stop it; but when it trips and falls to the ground, the team finishes it off with the Bio Particle Cut.
Notes
Rugger Megas' football/rugby theme and using a football as a weapon foreshadows Turbo Rugger, a later mecha in Turboranger with a similar concept.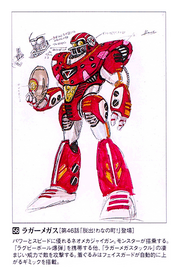 References
Community content is available under
CC-BY-SA
unless otherwise noted.