For her avatar, see Roxy (avatar).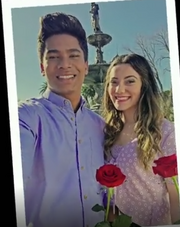 Roxy is an ally from the Grid Battleforce who was called upon to be the Beast Morphers' Yellow Ranger before an incident occurred that rendered her comatose.
Character History
Roxy is a cadet at Grid Battleforce. At one point, she was in a relationship with Ravi before they broke up due to rules stating that Rangers cannot date other Rangers. With training and assessment, Roxy was chosen to be the Yellow Ranger until Evox attacked Grid Battleforce and created her evil avatar. Beasts Unleashed
She and Blaze were both put into comas and into a deep sleep. According to Nate, Roxy and Blaze's avatars are entirely linked with their human counterparts, and they will not wake until their Avatars are killed.
Behind the Scenes
Portrayal
Notes
Appearances
See Also
References
Community content is available under
CC-BY-SA
unless otherwise noted.