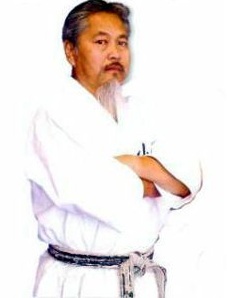 Richard Rabago
(August 14, 1943 – May 18, 2012) was a Japanese-American martial artist, instructor, and expert in Okinawan kobudō.
Early life
Rabago was born in Oahu, Hawaii. Growing up in the Hawaiian Islands, Rabago had the opportunity to experience and study many different forms of martial arts. Rabago's martial studies included: Judo, Aikido, Kempo and Boxing. After completing high school, Rabago moved to California in 1961.
Martial Arts training
He began his training in Shotokan Karate under the instruction of Tsutomu Oshima and Hidetaka Nishiyama. Rabago trained and studied the principles of Shotokan until 1968. In 1969, he began his study of Shorin-ryu (Kobayashi) Karate under George Terukina, and Hanshi Seikichi Iha. He progressed through the years and was promoted to the rank Shichidan (7th degree Black Belt) by HanshiTadashi Yamashita.
Dojo
Rabago opened his own dojo, and for over 30 years has taught Kobayashi Shorin-ru and Okinawan Kobudo in Torrance, California. The sign outside the dojo simply reads "SHORIN RYU". It is a traditional Okinawan dojo where Karateka soon learn that THE BASICS ARE EVERYTHING. Respect is earned through demonstrated skill and dedication under Rabago's tutelage.
Film and television
Rabago also embarked on the dual careers of engineering design and acting while teaching Shorin-ryu. He has appeared in more than twenty-five film and television roles, while holding down a job as a digital chip designer. Some of Rabago's film involvements include: The Sand Pebbles, Big Trouble in Little China and The Bad News Bears Go to Japan.
Rabago has acted in television commercials for Adidas and became well known for his role as Tao Chong in the VR Troopers television series. VR Troopers itself originated from a planned, but unmade show Cybertron. Rabago played Tao in the pilot, along with Jason David Frank who played Adam Steele/Cybertron.
He played Master Lee in the Mighty Morphin Power Rangers episode "Plague of the Mantis".
Death
He passed away on May 18, 2012 at age 68 in Cerritos, California. 
Community content is available under
CC-BY-SA
unless otherwise noted.