Raiken (雷剱, Raiken) is a blue lion-like Yoma servant of Maki created from Shishi-no-Shin's Engine Cast, able to assume a vehicle form and uses a kusarigama weapon. He was destroyed by Go-on Blue, Black, and Silver.
Character History
to be added
Personality
to be added
Powers and Abilities
Arsenal
to be added
Profile
Height: 218 cm
Weight: 198 kg
Behind the Scenes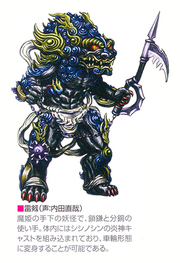 Portrayal
Raiken is voiced by Naoya Uchida. His suit actor is portrayed by an unknown actor.

Notes
Raiken along with Gokumaru and Empress Maki do not have a Power Rangers Counterpart.
The Reason for being unadapted for Power Rangers RPM was that movie footages cost extra and the movie took place in Feudal Japan. As for the Zord battle the Engine Shogun Megazord battle had kanji on it for the intro.
Community content is available under
CC-BY-SA
unless otherwise noted.