description to be added
Overview
Quester Robo Blaze (Erupt) (クエスターロボ 噴/ブレイズ, Kuesutā Robo Bureizu, 31): It is inspired on a battle chopper, specializes in airborne attacks. Designed to use "The Fire of the Ruined Country" as it has a special chamber in its head to place it, with it, and through the turbines on his shoulders, this Quester Robo uses an extremely powerful flame thrower that can nearly melt even Ultimate DaiBouken's armor. It was destroyed by Ultimate DaiBouken's Ultimate Blaster thanks to Sakura Nishihori's short-range attack.
History
Notes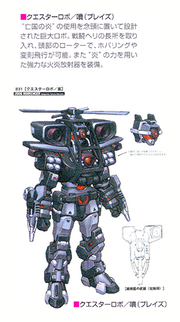 See Also
References
Community content is available under
CC-BY-SA
unless otherwise noted.