"You don't know me? I'm Psycho Red."

―Psycho Red
Psycho Red was the leader of the Psycho Rangers, making him the most powerful, the most evil, and the most violent of the team.
He is also referred to as Red Psycho Ranger - a variation on his in-show label.
Biography
He was based on the brain wave patterns of Andros and as a result, he was programmed with the strategies of the Red Space Ranger and the specs of Andros' weapons. He had an arrogant and brash personality, and frequently disobeyed orders and caused conflict within the team. Psycho Red used the Psycho Sword and had a fire monster form.
After his supposed destruction, his ghost joined the other Psycho Rangers into attacking the Space Rangers at Secret City. He was digitized onto a data card and sent to an unknown planet along with the other Psycho Rangers.
Lost Galaxy
A year later, Deviot found the cards and resurrected the Psycho Rangers to deal with the Lost Galaxy Rangers. The Space Rangers and Lost Galaxy Rangers fought the Psycho Rangers and destroyed them for good this time.
Arsenal
Video game appearances
Power Rangers Legacy Wars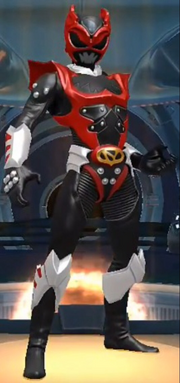 Psycho Red is among the villains who feature in Power Rangers Legacy Wars.

Trivia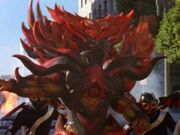 Gallery
Appearances
See Also
References
Community content is available under
CC-BY-SA
unless otherwise noted.