"The Gigabot is programmed with the Megazord's weaponry data. It can anticipate and counter-strike its every move. Smart, eh?"
"But we went to school together!"
―Mooney's last words before confinement[src]
Professor Mooney, or just Mooney is an old classmate of Kat's who was sick of always being in her shadow.
History
He later joined up with Broodwing and used the remote-control Gigabot to attack Newtech City. Mooney's plans are foiled and he is brought in by Kat as the S.P.D. Kat Ranger.
Personality
to be added
Powers and Abilities
Powers
to be added
Abilities
to be added
Weaknesses
to be added
Arsenal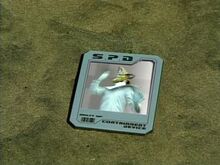 to be added
Profile
Charges
to be added
Behind the Scenes
Portrayal
to be added
Design
to be added
Etymology
to be added
Notes
Kat's capture of Professor Mooney is exclusive to S.P.D. only. In Dekaranger his counterpart Poppenian Hymal instead tried to commit suicide but Kat's counterpart Swan stopped him and then slapped him before he surrendered and allowed himself to be taken in more formally.
Appearances
to be added
See Also
References