| | |
| --- | --- |
| | This article is about a/an sister franchise in the Super Sentai series. |
Pretty Cure (プリキュア, Pretty Cure) is a animated franchise airing alongside Super Sentai and Kamen Rider on Sundays on the TV Asahi television network since February, 2004. Initially starting with the series Futari wa Pretty Cure (ふたりはプリキュア, Futari wa Purikyua) a parody of hero shows and the magical girl genre, it evolved into a franchise that both homages and parodies many of the tropes and elements within its sister shows while directing an audience both of young females that crosses over with many of the fans of tokusatsu. Generally Sentai and Cure series end up starting nearly the same time every year; with the Cure season generally starting one or two weeks prior to the start of a new Sentai series. Since 2020, the gap between Pretty Cure and Super Sentai widens with the premiere of the current season of the latter airing over a month before the premiere of the current Super Sentai series.
Super Sentai
Two special CDs were released crossing over Sentai and Cure heroes during the period of the two Futari series:
In the special Come Back! Shuriken Sentai Ninninger: Ninnin Girls vs. Boys FINAL WARS, a special Pretty Cure-style sequence was utilized for a finisher Fuuka Igasaki and Kasumi Momochi performed against a Yokai opponent. Veteran animators from the franchise were brought in as guests to animate the sequence.
Meet and greet characters of Pretty Cures sometimes appear alongside other heroes such as Kamen Riders and Sentai Rangers.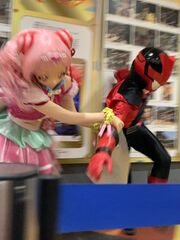 In the end credits dance sequence of Kishiryu Sentai Ryusoulger VS Lupinranger VS Patranger, Pretty Cures from the three newest seasons at the time—HUGtto! Pretty Cure, Star☆Twinkle Pretty Cure, and Healin' Good♡Pretty Cure—appear and join in the dance to Que Boom! Ryusoulger. The end credits also features the second ending of Star☆Twinkle Pretty Cure, with the Kiramagers participating in the dance. Cure Star is shown interacting with RyusoulRed and KiramaiRed, with the latter acknowledging her as his senpai. This marks the first official onscreen crossover between the two franchises.
List of Pretty Cures
Futari wa Pretty Cure/Futari wa Pretty Cure Max Heart
Futari wa Pretty Cure Splash☆Star
Yes! Pretty Cure 5/Yes! Pretty Cure 5 GoGo!
Fresh Pretty Cure!
Heartcatch Pretty Cure!
Suite Pretty Cure♪
Smile Pretty Cure!
DokiDoki! Pretty Cure
HappinessCharge Pretty Cure!
Go! Princess Pretty Cure
Maho Girls Pretty Cure!
KiraKira☆Pretty Cure A La Mode
HUGtto! Pretty Cure
Star☆Twinkle Pretty Cure
Healin' Good♡Pretty Cure
Sentai/Cure Lineup
Community content is available under
CC-BY-SA
unless otherwise noted.