This article is about a/an series entry (the 2nd) in the Power Rangers franchise.
Power Rangers Zeo (often abbreviated as PRZ, and often simply called Zeo) is the fourth season of the Power Rangers, serving as an adaptation of the Super Sentai series Chouriki Sentai Ohranger. The series continues the narrative established in both the 3rd Season of MMPR and Mighty Morphin Alien Rangers, as the Rangers return their adult forms and find the Zeo Crystal.
Prior to the series premiere, 32 non-canonical Zeo Serial shorts were each shown in place of the "Today on Power Rangers" segments during the last run of Mighty Morphin Power Rangers Season 3 and Mighty Morphin Alien Rangers.
Production
Following the release of Mighty Morphin' Power Rangers: The Movie, Saban had to deal with a general decline in the brand's popularity. While ratings for Mighty Morphin' Power Rangers were still solid during the show's third season, consistently ranking #1 in its weekday time slot, they nevertheless fell from the show's first two seasons. Combined with declining merchandise sales, Saban was faced with the threat of Power Rangers losing its phenomenon status.
With the fear of a continued decline, it was eventually decided that a major shakeup in the status quo was necessary. According to then-president of Saban's children entertainment division, Peter Dang, a wide number of options were considered, including the possibility of killing off major characters. Producers eventually settled on cosmetic changes (and a few casting changes), to match the source footage of Chōriki Sentai Ohranger. This allowed a completely new range of merchandise to be released while cutting costs. Sentai footage could be heavily used again as it had early in the series' run. [1][2][3][4] [5]
While early ratings for the show were high, maintaining the #1 ranking, they eventually faltered and the show struggled to beat out fellow Fox Kids shows Goosebumps and even sister-series Big Bad Beetleborgs. Saban then brought back Austin St. John in the role of Jason, hoping that the return of one of the original five Rangers would bring back older viewers.
Synopsis
"I am very proud of all of you. As Power Rangers, you have served your planet well. But the Power Rangers as you have known them are gone forever. In their place has emerged a new, and more advanced, fighting force. You have now become the Power Rangers Zeo, the next level in the fight against Evil!"
The tyrannical Machine Empire arrives to conquer Earth. Drawing on newfound powers from the legendary Zeo Crystals, the Power Rangers are reborn stronger than before.
Characters
Rangers
Allies
Civilians
Villains
Others
Arsenal
Morphers
Multi-Use Devices
Communication Devices
Sidearms, Individual Weapons, and Team Blaster
Team Cannon
Other Weapons
Vehicles
Zords
Legend:◆ piloted zord, ★ battlezord, ➲ carrier zord; colors are in reference to the Rangers who pilot them, not the physical color of the Zords
Zeo Zords System
Super Zeo Zords System
Independent
Alternate Combinations
Alternate Megazords
Evil Zords
Episodes
Comic
Cast
to be added
Notes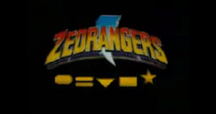 See Also
External Links
References