| | |
| --- | --- |
| | This article is about a/an series entry (the 10th) in the Power Rangers franchise. |
Power Rangers Wild Force, often abbreviated as "PRWF", was the tenth incarnation of the Power Rangers series, based on Hyakujuu Sentai Gaoranger.
Wild Force, like Time Force, is very faithful to its Sentai counterpart, with nearly the exact same plot. It's also the first season to have the exact same morphing sequence as its Sentai counterpart.
Power Rangers Wild Force takes place in 2002, continuing the tradition of having the incarnation taking place the year it was released. The first part of the series was originally broadcast on the Fox Kids children's television block, but was later moved to the ABC Kids children's television block in mid-season following the buyout of the Power Rangers franchise by Disney. Wild Force was dubbed in South Korea as Power Force Rangers (파워포스레인저 Pawa Poseu Leinjeo).
Wild Force celebrated 10 years of Power Rangers, while Gaoranger celebrated 25 years of Super Sentai.
Synopsis
The series follows the adventure of Cole Evans, who had been staying with a tribe for many years, as he tries to find his destiny in the fictitious town of Turtle Cove. He encounters the Animarium, a place that many believed to be a fairy tale. He joins four others who had a common path to become the new leader of the Wild Force Power Rangers.
The Power Rangers use their powers to defeat the forces of the Orgs, led by one Master Org. As Cole was fond of animals, he was shocked to discover that the Orgs were heartless creatures. As the series continues, he finds the truth about his real parents: his parents, Richard and Elizabeth Evans, were professors at Turtle Cove University, along with a family friend, Viktor Adler. When they were sent to the jungle for research, they discover the remains of the original Master Org, in which a jealous Adler consumes in order to exact revenge on Richard, who had proposed to Elizabeth before he could. However, Adler goes insane, and kills both Richard and Elizabeth. For a while, their newborn son, Cole, was also presumed dead.
The annual team-up episodes saw the Wild Force Rangers team up with the Time Force Rangers in order to stop three mutant Orgs (the Mut-Orgs) from polluting the Earth. It also featured the first time when a former villain teamed up with the Rangers to face the enemy. These episodes are special as it contained numerous references to various longtime fans of Power Rangers. Fans generally consider this teamup one of the best, due to the fact that the episode was written by a member of the fandom who was later hired to write for Wild Force, and the fact that the teamup brought closure to several plotholes in Time Force.
In addition to the annual team-up episodes, Power Rangers: Wild Force also had a special episode commemorating it as the tenth incarnation by having Cole team up with the nine Red Rangers before him[1] in order to defeat the Machine Empire one final time. This was known as Forever Red.
Characters
Rangers
Allies
Civilians
Villains
Monsters from PRWF
Arsenal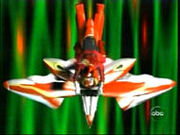 Growl Phone: Morpher of the Wild Force Rangers; with miniature robot/animal modes.
Lunar Caller: Morpher of the Lunar Wolf Ranger.
Weapons: Personal weapons used by the Rangers (White Tiger Baton, Golden Eagle Sword, Black Bison Axe, Blue Shark Fighting Fins, Red Lion Fang); can combine into Jungle Sword for the "Savage Slash" attack.
Animarium Armor: The Red Ranger's Battlizer granted to him by the Falcon Zord. It allows him to fly, form a shield from the wings, and fire energy blasts.
Savage Cycles: Motorcycles given to the Wild Force Rangers by their Wild Zords.
Wild Force Rider: Motorcycle given to the Red Ranger by Animus to replace his destroyed Savage Cycle.
Zords
Wildzord System
Legend:◆ piloted zord, ❖ aux zord, ◇ power-up zord
Alternate Combinations
Alternate Megazords
Wild Force Megazord
Kongazord
Dark Predazord
Isis Megazord
Evil Zords
Episodes
VHS/DVD Releases
Power Rangers Wild Force (Complete Season) [German RC2]
Power Rangers Seasons 8-12 (Lightspeed Rescue to Dino Thunder)
Power Rangers Legacy: The First 20 Seasons (MMPR through Megaforce)
Power Rangers Wild Force: The Complete Series (Shout! Factory)
Notas
Wild Force fue la primera temporada en tener un narrador como su contraparte Sentai.
Este es el primer equipo de guardabosques que tiene mujeres Rangers amarillas y blancas.
Wild Force, junto con Operation Overdrive , son las únicas temporadas en las que ninguno de los miembros del reparto ha vuelto a interpretar sus roles. Aunque los equipos Wild Force y Operation Overdrive aparecen en la Batalla legendaria de Super Megaforce , permanecen modificados a lo largo de esta aparición.
Wild Force es la primera serie de los Power Rangers donde se muestra que los Rangers ya están en funcionamiento, sin un Red Ranger, antes del inicio del espectáculo.
Wild Force es la primera temporada en mostrar los zords en CGI completo, no solo en sus presentaciones, sino en la mayoría de las escenas antes de su combinación en el Megazord (aunque los accesorios físicos se usaron ocasionalmente para tomas de primer plano).
La primera promoción de Wild Force en realidad usó varios clips de la introducción de Gaoranger. En un momento dado, se pueden ver las caras de los 5 principales Gaorangers a medida que se transforman. Además, en la primera promoción de Wild Force (la que se emitió después de que se terminara Time Force ), se pueden ver las caras completas de 4 de los actores japoneses de Gaoranger , a medida que comienzan a transformarse.
La secuencia de transformaciones en esta temporada se levanta de  Gaoranger  pero con las cabezas de los Rangers pegadas sobre sus contrapartes Sentai.
Esta es la primera temporada desde que los Mighty Morphin Alien Rangers presentan la formación del equipo principal Rojo, Azul, Negro, Amarillo y Blanco.
Esta fue la primera serie regular de los Power Rangers que no contó con un Pink Ranger, así como la primera serie desde que Mighty Morphin Alien Rangers no tuvo uno, y la primera desde que In Space no contó con un Green Ranger.
Esta es la primera temporada de los Power Rangers desde que In Space presenta a un Black Ranger, y la primera desde que los Mighty Morphin Power Rangers originales (y sus contrapartes alienígenas) presentan a un White Ranger.
La serie fue única en el hecho de que los villanos se llaman 'Orgs', como en Gaoranger
Wild Force tiene la distinción de contar con el Power Ranger más antiguo conocido (Merrick tenía más de 3,000 años en el momento de su lanzamiento).

Dino Charge rompió este récord y Koda tenía 100.000 años.

Esta temporada tiene el récord de la mayor cantidad de Zords presentados: 22.

Max es el único Ranger en esta temporada que no tiene 3 Zords, solo posee 2.

Esta serie también tiene el récord actual de apariciones en Power Ranger de temporadas anteriores, con 13. Los primeros fueron los 6 Time Force Rangers, luego los 7 Red Rangers en "Forever Red".
Aunque Master Org es un villano exclusivo de los Power Rangers, el traje usado para él fue reciclado del Emperador de Gorma XV , que es el villano principal de Gosei Sentai Dairanger . El concepto de Viktor Adler recuerda a Hideyo Kageyama, también conocido como Doctor Man, quien se desempeña como el villano principal de la Serie 1984 Choudenshi Bioman, quien fue el primer ser humano antes de convertirse en el villano principal. Irónicamente, Doctor Man y The Gorma Emperor son interpretados por el fallecido actor japonés Munemaru Kouda.
Esta serie dio el breve regreso del dúo de comedia Bulk y Skull en Forever Red , y fue la última serie en presentar a los dos hasta que Bulk regresó en Samurai y Skull cuando regresó a recoger a Spike al final de Super Samurai.
Este fue el último de los Power Rangers  S erie a ser producido por MMPR Producciones , y la primera temporada para ser desarrollado completamente bajo la propiedad de Disney y no Saban . Saban solo hizo la preproducción, cuando comenzó el rodaje, Disney ya había adquirido la franquicia.
Esta es también la última temporada para tener el segmento "La próxima vez" después de cada episodio y la última temporada para tener dos hembras en el equipo principal hasta el SPD de los Power Rangers.
El equipo de Time Force-Wild Force fue el primer equipo creado para Power Rangers, ya que nunca ha habido un Gaoranger contra Timeranger .
Esta es la primera temporada en mostrar sangre realista cuando se cortó la mano izquierda de Zen-Aku.
"Forever Red" fue el primer episodio en conmemorar el aniversario de la franquicia Power Rangers . Esto se repetiría en Dino Thunder con Legacy of Power , Operation Overdrive con Once A Ranger y " Super Megaforce " con Legendary Battle
Esta es la primera temporada desde que los Power Rangers de Mighty Morphin no usan Morphers de muñeca. En su lugar, usan teléfonos celulares como Morphers.
Esta fue la última serie que se emitirá en Fox Kids. A mitad de la carrera de Wild Force, fue trasladado a ABC Kids .
Esta fue la última temporada en usar secuencias de apertura fría hasta que los Power Rangers Samurai nueve años después.
Esta es la primera serie de los Power Rangers que no tiene un equipo con una futura generación de Power Rangers, ya que los Wild Force Rangers se disuelven permanentemente al final de la serie, aunque los Gaorangers correspondientes tuvieron un episodio de equipo con el Hurricanegers, las contrapartes de Ninja Storm . Esto puede deberse al hecho de que la producción se trasladó a Nueva Zelanda después de que finalizó Wild Force.
Esta es la primera encarnación de los Power Rangers ya que en el espacio no se destruyó la base de operaciones de los Rangers en la final, y la primera de todas las encarnaciones no se destruyó la base de operaciones de los Rangers (la Cámara de Poder en Zeo fue destruido al final de Turbo , y el Astro Megaship de In Space fue destruido al final de Lost Galaxy ).
A diferencia de Gaoranger, los Wild Force Rangers se referían notablemente entre sí por su nombre en lugar del color de toda la serie, aunque Gaoranger finalmente lo hizo después de que se presentaron formalmente en el final de la serie que se llevó a Ninpuu Sentai Hurricaneger vs. Gaoranger .
La temporada se menciona en Hikonin Sentai Akibaranger Temporada 2 : Ep. 5: Delusional Imports , donde se hace referencia a Gaoranger como una copia flagrante de él (el historial se ha modificado para que Sentai adapte PR en lugar de al revés). De hecho, Wild Force es ampliamente considerado como una de las estaciones más similares a su material de origen.
La princesa Shayla fue refundida después de que comenzó la filmación. Ella fue originalmente interpretada por Natasha Allas. [2]
Ricardo Medina, Jr. reaparecería más tarde durante los Power Rangers Samurai y Power Rangers Super Samurai como Deker .
La Animaria luego reaparecería durante la Alianza de A Lion's Super Megaforce de los Power Rangers .
A partir de 2014, Wild Force es el último espectáculo de Power Ranger que intercambia de género el Yellow Ranger, ya que el Ranger amarillo más adelante sería del mismo género que sus contrapartes Sentai.
Wild Force es la única temporada de los Power Rangers que se asocia con dos épocas diferentes: la Era Post-Zordon y la Era Disney . Se considera parte de la era Post-Zordon, ya que tenía el mismo equipo de producción que las nueve temporadas anteriores. Sin embargo, también es parte de la Era de Disney, ya que cuando comenzó a transmitirse, Disney ya había adquirido los derechos de Saban.
External links
References