Power Rangers Super Megaforce - Official Trailer
| | |
| --- | --- |
| | This article is about a/an season in the Power Rangers franchise. |

Power Rangers Super Megaforce is the 21st season of Power Rangers continuing the celebration of the series 20th anniversary. The series is based on Kaizoku Sentai Gokaiger, though some elements remain from Tensou Sentai Goseiger.
Production
"Power Rangers Megaforce" was trademarked by Saban Brands in 2011 during the run of Power Rangers Samurai. Casting sides released in April 2012 match with the blue and silver rangers of Kaizoku Sentai Gokaiger. On 11th June 2012, it was revealed that the season will be based on Tensou Sentai Goseiger.[1] The official name was then revealed as "Power Rangers Megaforce". The second season, titled Super Megaforce, will incorporate elements from Gokaiger.[2][3][4][5] That makes Megaforce the first hybrid adaptation since Mighty Morphin Power Rangers.
On June 17th, 2013 the official press release unveiled the plot of Power Rangers Super Megaforce:
"The upcoming season of Power Rangers Super Megaforce focuses on the Rangers' mission to defeat a massive alien army Armada that was sent to conquer Earth. To face this threat, Gosei, a supernatural guardian who has protected Earth for centuries, gives the Rangers special morphers and keys, which allow them to morph into Super Megaforce Rangers. The Rangers also have an added special ability to morph into any team of Power Rangers from the past. These super-sized adventures can only mean one thing: the all-new Power Rangers Super Megaforce has arrived!"[6]

Characters
Rangers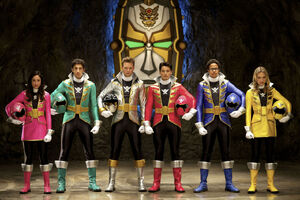 Allies
Legends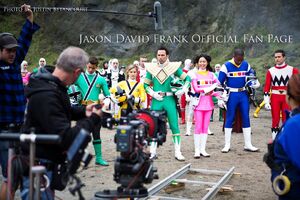 Villains
Arsenal
Morphers
Multi-Use Devices
Sidearms
Team Blaster
Zords
Super Mega/Legendary Zord System
Legend: ◆ piloted zord, ❖ aux mecha
Mechazord System
Alternate Combinations
Episodes
Notes
External links
See also
References
Community content is available under
CC-BY-SA
unless otherwise noted.