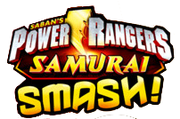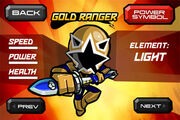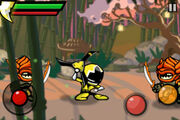 Power Rangers Samurai SMASH! is a game made for iOS, specifically iPhone. The game gives you Mike as a playable character and you'll need to win levels to gain more rangers, each one with increased speed, strength or health. It features 15 levels with a unique art style never before seen for Power Rangers.
There are three levels that increase in difficulty as the game progresses. A recurring rooftop level (Urban) signifies that the boss at the end would be Rofer. A swampland (Woods) signifies that the boss would be Yamiror. The interior of an old Japanese house (Hideout) signifies that the boss for the level would be Negatron.
Features
Classic, side-scrolling beat-em-up gameplay!
Epic boss battles!
Precise touch-screen controls that are simple to learn but hard to master.
Unlockable levels.
Unlock five additional rangers. (as of 2.0)
Master the ancient Power Symbols of each Ranger via swipe.
Achieve top score in the 3 survival modes.
Solve puzzles to win the levels.
Updates in 2.0/2.1
Easier gameplay
Added Gold Ranger unlockable character
Rangers now have three lives per level.
Rangers
Villains
Items
Samurai Disks - marginally powers up hits (red bar)
Power Rangers logo - collecting three allows for a finisher move
Medic Pack - builds up health (green bar)
Samuraizer - unlocks new Ranger and allows for symbol power practice
Notes

The designs for Samurai Smash inspired a set of Mini Battle-Ready/Stylized 2-inch Power Rangers Samurai figures from Bandai America. While they are typically SD, promotions during Toy Fair 2012 explicitly stated them as lifted from the game.
Community content is available under
CC-BY-SA
unless otherwise noted.