This article is about a/an series entry (the 18th) in the Power Rangers franchise.
"Samurai" redirects here. For the S.P.D. episode, see Samurai (episode).
Power Rangers Samurai is the eighteenth season of Power Rangers, serving as an adaptation of the 33rd Super Sentai season, Samurai Sentai Shinkenger. A second season, titled Power Rangers Super Samurai premiered the following year. The series is the first to be produced by a revived Saban Brands, following their re-acquisition of the franchise from Disney, who intended to cancel the series after the finale of RPM. The show was filmed in an HD-format and premiered on both Nickelodeon and Nick Toons.
In 2012, the show had an average of 2 million viewers on Nickelodeon.[1] Ratings in 2011 were higher, close to or slighter more than 3 million [2] [3] [4] but were down starting in October[5] The highest rated episode was May 15th, 2011's "The Blue and the Gold", with 3.7 million viewers. [6]
The series also marked a return of Power Rangers dubs in Japan as it was released in fall of 2013. [7]
Production
Disney decided to cancel Power Rangers for good after Power Rangers RPM due to low toy ratings and production costs in New Zealand rising dramatically. However, Saban (the original creators of Power Rangers now operation under Saban Brands) brought back the rights and took a year to adapt the 33rd entry in the Super Sentai franchise, Samurai Sentai Shinkenger from 2009. Instead of a new Power Rangers season being made for 2010, they re-edited and re-aired half of season 1 of Mighty Morphin' Power Rangers on Nickelodeon to tide fans over. To aid in production, Saban re-hired former executive producer Jonathan Tzachor who left the series after Power Rangers Wild Force due to Disney's buyout. However, Tzachor has always preferred to make more Sentai footage heavy episodes to the point that, at several points in Power Rangers Time Force for example, Japanese actors are very visible. For comedy relief, Saban was going to create two completely original characters Big Jack and Skinny Mack meant to be a callback to Bulk and Skull from the original Saban Era. Paul Schrier was brought in for casting and described Skinny Mack as "Skull meets Ace Ventura." However, he got along well with Felix Ryan during casting so it was decided to re-hire him to reprise his role as Bulk with Ryan playing a new character named Spike and the Big Jack and Skinny Mack idea was shelved.
Problems began shortly after production began since Samurai Sentai Shinkenger was a Sentai deeply rooted in Japanese culture with very Japanese imagery; so much so that placing it in America was impossible since the Japanese elements were so intrusive, they could not edit around them. As such, the fictional Panorama City, Japan was created, and Samurai/Super Samurai was the only time that an entire season was set in Japan. Tzachor, who had been made head writer, brought Saban a finished script early into production but they were rejected for being terrible and Saban hurriedly hired former Fox Kids executive James W. Bates as head writer with Tzachor only being executive producer. However, by the time that Bates was brought in, it was November 2010 and they had to have finished writing, filming, editing and finalizing all 22 episodes by January 2011 so that Nickelodeon could air them in February. At the same time, Tzachor was forcing the writers to stick to Shinkenger as close as they could. In Bates' own words "To Jonathan, Shinkenger is a great show. Why change it too much? He saw what he thought was working in the show and was just sticking very close to it." This rushing and executive pressuring led to most of the writing and plot-points of Shinkenger being copied into Samurai to expediate the process. [8]
Synopsis
"Centuries ago in Japan, Nighlok monsters invaded our world, but samurai warriors defeated them with power symbols, passed down from parent to child. Today the evil Nighlok have risen once again and plan to flood the earth. Luckily, a new generation of heroes stand in their way. They are the Power Rangers Samurai."
―Narrator[src]
Several centuries ago in Ancient Japan, monsters known as the Nighloks began to attack the human world, only to face opposition from humans who could harness Symbol Power and become the Samurai Power Rangers. The Nighlok leader, Master Xandred was eventually sealed away by a previous generation, but he has arisen once again to exact his revenge. Jayden Shiba, the 18th Head of the Shiba Clan and descendant of the former Red Ranger that defeated Xandred years ago, gathers: Kevin, Mike, Emily, and Mia Watanabe to take up the mantle as the 18th generation of Samurai Power Rangers. Along the way, Jayden's childhood best friend, Antonio Garcia returns to town with his own Ranger powers, the Gold Ranger. With his technical expertise, he was able to reverse engineer his own morpher as well as repair a thought-to-be beyond damaged Zord that Jayden gave him years ago. In time, Antonio proves himself to be a valuable asset to the team and is formally indoctrinated as the 6th Samurai Ranger.
Characters
Rangers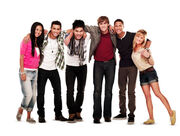 Allies
Villains
Arsenal
Morphers
Multi-Use Devices
Sidearms and Individual Weapons
Vehicles
Zords
Legend:◆ piloted zord, ❖ aux zord, ★ battlezord; colors are in reference to Rangers who piloted them and not the physical color of the zords
Alternate Megazords
Episodes
DVD Release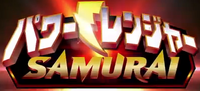 Games
Notes
See Also
External links
References