Power Rangers Samurai Trailer
Play Sound

This article is about a/an series entry (the 18th) in the Power Rangers franchise.
"Samurai" redirects here. For the S.P.D. episode, see Samurai (episode).
Power Rangers: Samurai is the eighteenth season of Power Rangers, serving as an adaptation of the 33rd Super Sentai season, Samurai Sentai Shinkenger. A second season, titled Power Rangers Super Samurai premiered the following year. The series is the first to be produced by a revived Saban Brands, following their re-acquisition of the franchise from Disney, who intended to cancel the series after the finale of RPM. The show was filmed in an HD-format and premiered on both Nickelodeon and Nick Toons.
In 2012, the show had an average of 2 million viewers on Nickelodeon.[1] Ratings in 2011 were higher, close to or slighter more than 3 million [2] [3] [4] but were down starting in October[5] The highest rated episode was May 15th 2011's "The Blue and the Gold", with 3.7 million viewers. [6]
The series also marked a return of Power Rangers dubs in Japan as it was released in fall of 2013. [7]
Production
After the franchise's reacquisition by Saban Brands, the show premiered in on Nickelodeon on February 7, 2011 in the United States, and May 7, 2011 in the United Kingdom. Produced by Saban Capital Group, the production had aimed to infuse a brighter tone of fun and comedy that wasn't present in Jungle Fury and RPM. [8]
Synopsis
"Centuries ago in Japan, Nighlok monsters invaded our world, but samurai warriors defeated them with power symbols, passed down from parent to child. Today the evil Nighlok have risen once again and plan to flood the earth. Luckily, a new generation of heroes stand in their way. They are the Power Rangers Samurai."
―Narrator
Several centuries ago in Ancient Japan, monsters known as the Nighloks began to attack the human world, only to face opposition from humans who could harness Symbol Power and become the Samurai Power Rangers. The Nighlok leader, Master Xandred was eventually sealed away by a previous generation, but he has arisen once again to exact his revenge. Jayden Shiba, the 18th Head of the Shiba Clan and descendant of the former Red Ranger that defeated Xandred years ago, gathers: Kevin, Mike, Emily, and Mia Watanabe to take up the mantle as the 18th generation of Samurai Power Rangers.
Along the way, Jayden's childhood best friend, Antonio Garcia returns to town with his own Ranger powers, the Gold Ranger. With his technical expertise, he was able to reverse engineer his own morpher as well as repair a thought-to-be beyond damaged zord that Jayden gave him years ago. In time, Antonio proves himself to be a valuable asset to the team, and is formally indoctrinated as the 6th Samurai Ranger.
Characters
Rangers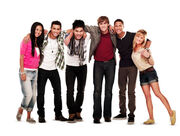 Allies
Villains
Arsenal
Morphers
Zords
Legend:◆ piloted zord, ❖ aux zord, ★ battlezord
Alternate Megazords
Episodes
DVD Release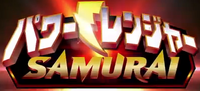 Games
Notes
See Also
External links
References