Where are we? When are we?!

Actually, this article is outdated. Some of the information may be written as estimations when the event has already occurred, or may contain old speculation that has been proven or disproven already. Would you help us bring it up to speed?
Reason: Page is almost four years out of date.
| | |
| --- | --- |
| | This article is about a/an video game in the Super Sentai series. |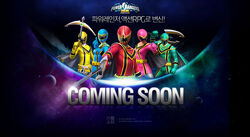 Power Rangers Online is a South Korean game based on the Super Sentai series, which airs in South Korea under the title Power Rangers. South Korean game company, Ntreev Soft announced it will unveil Power Rangers Online, a role-playing game based on the popular Super Sentai series produced by Toei Co., Ltd, in the later half of 2011.
Power Rangers Online is in co-development by Ntreev Soft, Daewon Media and Ironnos. The teaser site for the game is now online and announced that it plans to launch closed beta testing for the game within this year.
Power Rangers Online is based on Mahou Sentai Magiranger which aired in South Korea as Power Rangers Magic Force in 2006. The game is expected to be made into a horizontal scroll action RPG game.
Ntreev Soft indicated that the Super Sentai series has been well received by the gamers, so it is confident in making Power Rangers Online into a game popular among all people regardless of age and sex, men and women, old and young.
Players will be able to experience special Super Sentai costumes, combination skills and other unique combat skills, and have the chance to fight the monsters from the said series.
Power Rangers Online is currently in closed beta with only three rangers available: MagiRed/MagicRed, MagiYellow/MagicYellow, and MagiPink/MagicPink. The game will be released later this year.
In a press conference for the game, the Goseigers, who were currently airing in South Korea as Power Rangers Miracle Force, appeared at the conference. The reason why they were there instead of the Magirangers is unknown.
The game is now closed.
External links
Community content is available under
CC-BY-SA
unless otherwise noted.