| | |
| --- | --- |
| | This article is about a/an major event/campaign celebrating shows in the Power Rangers franchise. |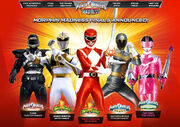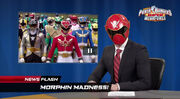 Power Rangers Morphin Madness was a 2014 online promotional campaign. It pit eighty of the Legendary Rangers against each other in popularity polls until only five remained. There were anywhere from two to six Rangers represented per team. In stages of the voting, voters were treated to coupons for free toys. Once a round was completed, one would be able to enter the sweepstakes for major prizes. Sequel campaigns were later announced in 2015, Power Rangers Megazord Madness and in 2018, Power Rangers Monster Madness.

Participating Rangers
Each Ranger is pitted typically against a Ranger of another color. There are times when this is not the case. Also, as for the bios of each Ranger, certain Ranger powers used by multiple characters are not specified as to who is donning the powers. Some, like Jason and T.J. as Turbo Red Ranger are. The naming convention for each Ranger is as follows - Team-Color-Ranger. For special Rangers the Color and Ranger designations are dropped for their special designations.

Round 1
Round 2
Round 3
Round 4
The Final 5
Voting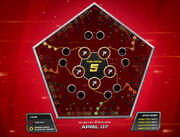 The first round of the polls places eighty of the Rangers in pairs. The round for the most part puts together Rangers of the same color, with few exceptions. This pairing goes on for three more rounds until only five Legendary Rangers remain.
Round 1 (80 Rangers) - March 10, 2014
Round 2 (40 Rangers) - March 17, 2014
Round 3 (20 Rangers) - March 24, 2014
Round 4 (10 Rangers) - March 31, 2014
Statistics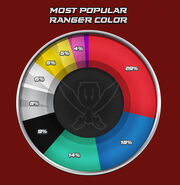 Voting also drives statistics for various metrics. Most popular Ranger teams are listed based on votes, albeit not all teams are fully represented. A 'Trending' section also lists Rangers that are "hot" or "not" based on polling. Most popular Ranger colors are also presented although it should be noted that all red main Rangers are represented, and then some, with the inclusion of secondary Red Rangers. There is also only a single Violet Ranger.

Rewards
Round 1
After a few votes, one can earn a PDF coupon for a free Ranger Key 3-pack.
After a few more votes, one can earn a PDF coupon for $1 off a five-inch Super Megaforce figure.
Round 2
After a few votes, one can earn a PDF coupon for $3 off a double-battle action figure.
After a few more votes, one can earn a PDF coupon for $5 off a Super Mega Saber.
Round 3
After 4 votes, one can earn a PDF coupon for $5 off a Deluxe Legendary Morpher.
Round 4
After 2 votes, one can earn a PDF coupon for $5 off a Deluxe Legendary Megazord.
Sweepstakes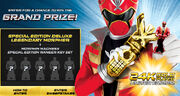 One can enter the sweepstakes after finishing the vote. The grand prize is a DELUXE gold-plated Legendary Morpher and a set of five yet-unrevealed Ranger Keys.
Hacking
Unfortunately, on 28 March 2014, it was discovered that some of the votes had been affected by hackers.[1]
"MORPHIN MADNESS UPDATE!
We have been alerted to the fact that someone managed to hack the voting system, affecting some of the results in Morphin Madness. Rest assured that we are dedicated to ensuring this is a fun and fair competition. The Power Rangers wouldn't have it any other way! We have successfully tracked down the fake voting mechanism and have carefully removed the extra votes and restored the rankings to reflect their true values. Thanks for your patience while we worked to resolve the issue. Now, back to the fun! Vote for your favorite rangers in Morphin Madness: https://bit.ly/MorphinMadness"
―Power Rangers on Facebook
Notes
Of the 80 Rangers selected, only 9 are female. MMPR Pink and Yellow, Time Force Pink, Ninja Storm Blue, Mystic Force White, RPM Silver, Samurai Red (Lauren) and Super Megaforce Pink and Yellow.
Katie Walker is the only Time Force Ranger not featured.
Tommy Oliver is featured as four separate rangers, MMPR Green and White, Zeo Ranger V Red and Dino Thunder Black. Turbo Red is identified as TJ.
Jason Lee Scott, TJ Johnson, Carlos Vallerte, Troy Burrows, Noah Carver and Jake Holling are all featured twice.
Adam Park may also be featured twice. However, it is not specified whether MMPR Black is him or his predecessor Zack Taylor.
Mighty Morphin has the most rangers featured with a total of seven, followed by Ninja Storm and Mystic Force with a total of six, then Turbo, Time Force, SPD, Samurai and Super Megaforce with a total of five.
MMPR and Ninja Storm are the only teams to have all their rangers compete.
Most of the matchups from round one were based around color, but several shared similar themes.

The Wolf Warrior and Titanium Rangers were both cursed by and forced to serve the villains of that season.
Robo Knight and the Blue Senturion were both Robotic allies that came from different times (The far past for Robo Knight and the future for Blue Senturion)
The Jungle Fury Wolf Ranger and the Wild Force Lunar Wolf Ranger both took on actual Wolf-like forms and attacked the Rangers with their Zords.

Aurico is the only Alien Ranger featured.
References
Community content is available under
CC-BY-SA
unless otherwise noted.