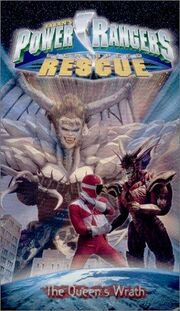 Power Rangers Lightspeed Rescue: The Queen's Wrath is the fourth video release of Power Rangers: Lightspeed Rescue.
Plot
Queen Bansheera had finally developed her true form and began her mission of World Domination and the Rangers have to stop her from doing so.
Episodes on Video
In the video, the film featured the following episodes as segments that recently appeared while they were broadcast back in November 2000. These 4 episodes included:
Wrath of the Queen (#37)
Rise of the Super Demons (#38)
The Fate of Lightspeed (#39-40)
Cast of Characters
See Also
Community content is available under
CC-BY-SA
unless otherwise noted.