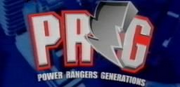 Power Rangers Generations was the name that re-runs of Power Rangers ran under as part of the Jetix block on ABC Family from 2005-2006 and Toon Disney from 2005-2007. Prior to this, it was known as Best Of Power Rangers from 2002-2004.
DVD
Power Rangers Generations was also the name of a DVD which was exclusively released free with the 16th issue of the UK Jetix Magazine, which featured part 2 of the SPD comic story Mind Crime. Primarily, it hosted three classic Power Rangersepisodes, Attack of the 60' Bulk of Mighty Morphin Alien Rangers, Mean Screen of Power Rangers Zeo, and Shadow Rangers of Power Rangers Turbo.
Special features included an Alien Rangers quiz to access the code for the "Secret Area" which included a Power Rangers Dino Thunder "True or False? Quiz, fact files of Power Rangers Time Force, video profiles for the Green and Pink SPD Rangers, an SPD series promo, and an additional trailer featuring Power Rangers among 7 Jetix heroes.
PC content included the flash game Power Rangers Rocket Storm, wallpaper, door hangers and pictures to color for Power Rangers Dino Thunder, and a special screensaver.
Community content is available under
CC-BY-SA
unless otherwise noted.