This article is about a/an series entry (the 22nd) in the Power Rangers franchise.
Power Rangers Dino Charge is the twenty-second season of Power Rangers, serving as an adaptation of the first half of the Super Sentai series Zyuden Sentai Kyoryuger. A second season covering the second half of Kyoryuger premiered in the following year.
Production
"Power Rangers Dino Charge" was trademarked by Saban Brands in 2014 prior to the run of Power Rangers Super Megaforce.
Plot
""Millions of years ago, the evil Sledge tried to steal the greatest power in the universe. But an alien named Keeper entrusted them to dinosaurs. As for Sledge... He was blasted deep into space. Now the Energems have been found, and Sledge returns to battle a new team of heroes; they are... Power Rangers Dino Charge!""
―Opening narration[src]
Sixty-five million years ago, the legendary, transcendent Energems were given to ten dinosaurs for safekeeping by an alien named Keeper. But when Sledge, an intergalactic bounty hunter, attempted to acquire the Energems, his ship was blasted into space and his asteroids crash on Earth, leading to the extinction of the dinosaurs and the Energems being lost with them. Now, in the present day, Sledge is back and starts sniffing around Earth looking for the Energems in order to harness their power and annihilate the world, so a team of Power Rangers form to find the Energems first and fight the bounty hunter and other threats with dino-powered swords, blasters, Zords, and Megazords.
Characters
Rangers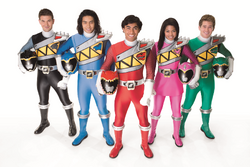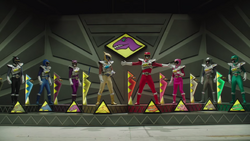 Allies
Civilians
Villains
Arsenal
Morphers/Sidearms
Multi-Use Devices
Individual Weapons and Team Weapon
Dino Spike ◆◆◆◆◆

T-Rex Chopper ◆◆

T-Rex Smasher ◆
Para Chopper ◆

Triple Spike ◆◆◆

Stego Shield ◆
Raptor Claw ◆
Tricera Drill ◆

Ptera Saber ◆
Royal Dino Punch ◆
Communication Devices
Vehicles
Zords
Dino Charge Zord System
Legend:◆ piloted mecha, ● other; colors are in reference to Rangers who piloted them and not the physical color of the zords
Alternate Combinations
Dino Charge Megazord
Ptera Charge Megazord
Plesio Charge Megazord
Episodes
Video Release
Power Rangers Dino Charge: The Complete Season
Power Ranger Dino Charge & Dino Super Charge Collection
Toyline
Video Games
Notes
This is the first Power Rangers season to not have any Multi-Part Episodes.
The Super Ninja Steel episode "Echoes of Evil" confirms that the Dino Charge series is in a separate universe, similar to Power Rangers RPM.
The episode "Sync or Swim" marks the 800th Episode of Power Rangers.
This series features the first Grey (graphite) Ranger.
This series has the peculiarity of having a three-Zord formation for the Megazord even when there are 5 main Rangers.
This is the first Power Rangers series not to feature a Yellow Ranger.
This is the first season to completely bypass a season of Super Sentai, skipping Tokumei Sentai Go-Busters to instead adapt Zyuden Sentai Kyoryuger.
This is the first season to premiere on Spacetoon in 2016.
As of 2016, Dino Charge is the last show to be dubbed in Indonesian and aired in Indonesia.
See Also
External links
References