Wiki Targeted (Entertainment)
Play Sound

This article is about a/an video game in the Power Rangers franchise.
Power Rangers: Battle for the Grid is a fighting game developed by nWay for the PlayStation 4, Xbox One, Nintendo Switch, Google Stadia and PC.
Development
It was announced on January 17, 2019 to be released that April, but the Nintendo Switch, Xbox One, and European PS4 versions of the game were moved to be released in late March. It is part of nWay's collaboration with Lionsgate Games and Hasbro. nWay used the Unity game engine to develop the game.[2] The PS4 and Switch versions of the game will receive a physical release from Limited Run games, as well as a special "Mega Edition", containing several special items, in November 2019.
Gameplay
Despite sharing some characters and basic design elements to nWay's previous Power Ranger game, Power Rangers Legacy Wars, the gameplay systems are vastly different. The gameplay uses mechanics more in line with traditional fighting games, and features 3-on-3 tag team matches similar to the Marvel vs. Capcom series, Skullgirls, Dragon Ball FighterZ and BlazBlue: Cross Tag Battle. The game features cross-play across all versions except for the PlayStation 4 version, which enables the option of transferring save data and in-game purchases, as well as compete against other players regardless of console. Players can also choose one of the giants such as Original Dino Megazord and Giant Goldar to assist in battle when one or two team mates have been defeated.
On April 30, 2019, Update 1 was released with three new characters, two new stages, voice acting and the first part of the story mode. The story mode was written by Kyle Higgins, most notable for writing the Mighty Morphin Power Rangers comics with Boom! Studios, and mirrors elements of the Shattered Grid event. Several cast members returned to voice certain characters, including: Jason David Frank, Austin St. John, David Fielding and Meghan Camarena among others. It was also confirmed on a livestream in 2019 that additional story content would be added, separate to the main game story and arcade modes.
Season 1 began on July 11, 2019, with the release of Trey of Triforia and Jen Scotts and the announcement of Lord Zedd through the Season 1 Pass. On this day, nWay Play was enabled, which featured the ability to play with users on both Xbox One and Nintendo Switch. Lord Zedd released alongside the 1.4 patch and featured the final act of the story mode.
Other port releases after Season 1 Pass will have all contents that weren't initially appeared on the first release of the game by default, although Season 1 contents remained payables if player haven't pre-order the post-Season 1 content release game ports.
Plot
Act 1
The story begins in an alternative universe, where Lord Drakkon and Rita Repulsa are mid-exchange, as the two discuss their current plans of taking over the Morphing Grid. Once things become heated, Lord Drakkon stabs Rita in the heart with a Dragon Dagger, killing her in the process. Back in the main timeline, Kimberly, Jason and Tommy are in the midst of a training session at the Command Center. After Jason leaves, Tommy and Kimberly make plans to watch a movie that evening. Suddenly, Lord Drakkon followed by Mastodon Sentries, storm the Command Center. After a fight breaks out, Drakkon uses the Green Ranger power to kill Tommy, leaving Kimberly heartbroken. As Kimberly mourns Tommy's death, the rest of the Mighty Morphin Power Rangers arrive back at the Command Center. Jen Scotts soon appears to save them all, informing the Rangers on Drakkon and the danger he poses.
Elsewhere, in the Mystic Forest, the Mystic Rangers are the victims of an attack by Drakkon's forces. With their powers and bodies stolen, Udonna is the only one left to fight back. After being defeated by an alternate version of Goldar, Udonna flees into the forest. In Harwood County, Drakkon targets the Mega Rangers and their powers. With Gia Moran as the last one standing, she is almost defeated by Drakkon until Kat Manx comes to the rescue. However, she is not successful, and is summoned back to base by Anubis "Doggy" Kruger. Drakkon puts Gia under a mind control spell. Meanwhile, Mike Corbett visits Lord Drakkon's Throne Room in an effort to thwart Drakkon's efforts. However, Drakkon defeats Mike as the Magna Defender, and puts him under the same mind control spell as Gia.
Act 2
In the Cenozoic Era, Goldar and the Mastodon Sentries travel to collect more Morphers. Cenozoic Blue Ranger is the next victim to these attacks, and like Gia and Mike, is put under mind control. Not long after, Trini wearing Black Dragon armor comes to defend against Goldar and the Sentries. Whilst she is able to subdue the threat, it is too late to save the Blue Ranger. Jen, along with Jason and Lauren Shiba regroup with Trini. The four of them each split up, with Jason and Trini's goal being to save as many Rangers as possible. Lauren and Jen travel to Corinth to stop another assault from Drakkon's forces. Jason and Trini travel to the Mystic Forest and meet Udonna, who at first mistakes the two as enemies. Once they settle their differences, a distress call comes from Corinth, as they are needed straight away. In doing so, the Battle of Corinth takes place. Despite their efforts, the resistance falls, Doctor K and the other Rangers are teleported to the Command Center. Ranger Slayer then announces to the resistance that in an earlier fight with Kimberly, a mind control spell over her was broken, once again able to think for herself. Ranger Slayer joins the Power Rangers against Drakkon.
The second act ends with Zordon and Doggy Kruger travelling to the Rita Repulsa of their universe. The two ask for help, as they fear Drakkon's interference with the Morphing Grid could destroy the whole of existence. As Rita laughs off the threat, Zordon informs Rita that Drakkon killed her in another timeline. Before she can give an answer, the screen goes black, with text on screen reading "to be continued".
Act 3
Jason makes a speech to all surviving Rangers - Phantom Ranger, Kat Manx, Lauren, Koda, Trini, Trey of Triforia, Jen, Doggie, Zhane, Zack, Wesley Collins, Udonna, among others - saying that they will never give up the fight against Drakkon, proclaiming "We... Are the POWER RANGERS". Trini, Kat, and Trey fight against Mike and Gia who are still under Drakkon's spell. The spirit of the original Magna Defender manages to help Mike break free of the spell and he joins the other Rangers in battling Drakkon's forces. Meanwhile, Doggie and Rita sneak into Drakkon's throne room where Rita uses a candle to drain Drakkon's powers. Drakkon then sees Ranger Slayer has betrayed him and joined the side of good. Using the Black Dragon Armor, Trini topples Drakkon's antenna tower, causing the Ranger Sentries to loose their powers. As the two Kimberly take on Drakkon, Rita plans to finish him off, but Finster 5 stops them using Zedd's staff to save his master, who kills him after trying to stop him taking in more energy from their Morphers he stole. As Drakkon is about to use the Morphers he stole to gain more power, Tommy appears and tries to talk Drakkon out of his plans. This fails, which leads to a battle between Drakkon and the Green Ranger.
Green Ranger tries once again to try and get Drakkon to listen to reason, to which Drakkon says "I'd rather die". Refusing to de-morph, Drakkon begins overloading from Grid energy. Tommy calls Alpha to get everyone out of Drakkon's world before he explodes. Mere moments after everyone teleports out, Drakkon explodes and takes his complex with him.
In the main universe, Tommy reflects on Drakkon became evil and worries about himself possibly being weak enough to be the same. The Ranger Slayer tells him that Drakkon was always alone and trusted no one; Tommy has his friends with him to help keep his head on straight. As the rest of the Rangers join them, Tommy thanks his friends for being there for him.
Voice Cast
Returning Reprisals
New Cast
Characters
Heroes
Power Rangers
Villains
Monster
Evil Rangers
Mega Assists
Non-Playable Characters
The following characters appear in the Story Mode. Characters such as the Mighty Morphin Yellow Ranger I, Time Force Pink Ranger, S.P.D. Shadow Rangers (the latter being in his civilian form only), and Red Samurai Ranger II, first appeared as a non-playable character, but later appeared in the game as post-release fighters.
Characters by Game Version
Character/Skin
Battle for the Grid
Battle for the Grid

+

Pre-Order DLC

Battle for the Grid

+

Season 1 Pass

Battle for the Grid

+

Season 2 Pass

Battle for the Grid

+

Season 3 Pass

Battle for the Grid

+

Street Fighter Pass

Battle for the Grid:

Collector's Edition

Battle for the Grid:

Super Edition

Mighty Morphin Red Ranger I 
Mighty Morphin Red Ranger Dragonshield Skin
Mighty Morphin Green Ranger I
Mighty Morphin Green Ranger ver.2 Skin
Mighty Morphin White Ranger Skin
Super Megaforce Yellow Ranger
Ranger Slayer
Mighty Morphin Pink Ranger I Skin
S.P.D. Kat Ranger
Magna Defender II
Dragon Armor Trini
White Mystic Ranger
Cenozoic Blue Ranger
Goldar
Lord Drakkon
Evo II Skin
Mastodon Sentry
Gold Zeo Ranger I
Time Force Pink Ranger
Lord Zedd
S.P.D. Shadow Ranger
Time Force Quantum Ranger
Dai Shi
Phantom Beast King Armor Skin
Jungle Fury Wolf Ranger
Samurai Red Ranger II
Scorpina
Crimson Hawk Ranger
Blue Phoenix Ranger
Stages
Lord Drakkon's Throne Room (Story) (Update 2.6)
Videos
Physical Release
The game will receive a physical release from Limited Run Games in November 2019 for the PS4 and Switch, as announced during Limited Run Games' E3 2019 press conference on June 10th, 2019. Pre-orders opened immediately on their website, and are limited to 2000 PS4 and 3000 Switch copies of the Mega Editions, while the regular release on PS4 and Switch is an open pre-order until July 5th. A small amount of PS4 and Switch stock will also see a release from Limited Run Games at select brick and mortar stores with an alternate cover.
A Super Edition containing all downloadable content was released digitally in May 2021 and is set for release physically in July 2021.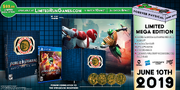 Notes
This marks the return of the Power Rangers video game series to PC since Power Rangers: Super Legends.
This is the first video game to be released during the Hasbro era.

Despite being published partially by Hasbro, the game does not yet include any characters from the Hasbro era.

Despite using the Power Rangers (2017) logo, the game did not feature any characters or stages from the film at launch. Cenozoic Blue Ranger was added in the first game update, along with the Cenozoic Era stage.
It is the second eighth generation console game, following Mighty Morphin Power Rangers: Mega Battle.
This game marks the playable debut of Mastodon Sentry and the Cenozoic Blue Ranger.
A data breach on the game's official website revealed that the original title for the game was Power Rangers: Generations.
The alternate colors used when two players pick the same character are said to be inspired by Putty Patrol decoys. Eventually after all Season 1 contents complete, the alternate colors is revealed to be a corrupted form of the characters, courtesy of Lord Drakkon. As for Mastodon Sentry's alternate color, it is not a corrupted form, but simply an advanced suit used by its elite leaders of the said Sentry.
The game was originally planned to be released during April but was later moved forward to March for the Xbox One, Nintendo Switch, and European PS4 versions of the game. It was speculated that this was done to avoid competition with the upcoming Mortal Kombat 11.
On March 20, 2019, users on Twitter and Rangerboard allegedly datamined the game's official website and found character renders for Jason as the Gold Zeo Ranger, and White Mystic Ranger. This sparked discussion among fans, as they had yet to be confirmed to be appearing in the game in any capacity. On April 3, 2019, White Mystic Ranger was confirmed to be coming to the game through an update. It was not until July 10, 2019, when the playable Gold Zeo Ranger's identity was officially confirmed to be Trey of Triforia, and coming in the Season 1 pass.[9][10]
On March 23, 2019, Battle for the Grid Fans leaked art from the official art book before release. It depicted more characters that had yet to be announced, and also included the aforementioned White Mystic Ranger and Gold Zeo Ranger. The art book revealed Dragon Armor Trini, Time Force Pink and Alpha 5. As of April 3, 2019, only Dragon Armor Trini had been officially confirmed to be coming to the game.[11] On July 10, 2019, the Time Force Pink Ranger joined the roster through the Season 1 Pass.
Despite three of his teammates appearing in Power Rangers (2017), the Cenozoic Blue Ranger makes his franchise debut in this game.
The titles of numerous achievements are references to past Power Rangers media.
There are numerous errors in the facts section when waiting for opponents in the online modes.

It states Z Putty Patrollers appear in the first season of Mighty Morphin' Power Rangers, however this is false, as they introduced during the second season.
Numerous spelling and grammatical errors, including referring to Kyōryū Sentai Zyuranger as "Zyu Rangers".

This is also the first console game that directly references Super Sentai. The facts section references Zyuranger, Kakuranger and Dairanger, albeit misspelt.
On June 6, 2019, the game was announced as a launch title for the Google Stadia, a cloud based gaming service. It is expected to release in 14 countries in November 2019 alongside games like Mortal Kombat 11, Shadow of the Tomb Raider, Assassin's Creed Odyssey and Final Fantasy XV, among others.
Despite the physical release description through Limited Run Games announcing content such as new stages and three new free characters appearing in the 1.3 patch, the Battle for the Grid Fans Twitter page reported that this was a misprint and the 1.3 patch instead contained the Season 1 characters and no new stages. This was confirmed on July 10, 2019. They also reported that the 1.4 patch included a brand new stage, which was confirmed, however, the stage is only playable in the story and arcade modes.[12]
The Battle for the Grid Fans Twitter page ran an unofficial fan poll asking fans what their most wanted character addition was for the game. The poll received over 1,100 votes and declared Shadow Ranger the winner. Also in the top 12 was the White Dino Ranger, Titanium Ranger, Time Force Pink Ranger, Wolf Ranger, Gold Ranger, Black Ninja Ranger (Adam Park), Lord Zedd, Quantum Ranger, White Ranger (Tommy Oliver), Red Wind Ranger and Dark Ranger.[13]

Time Force Pink, Gold Ranger (Trey of Triforia), and Lord Zedd would later be announced as playable fighters, but were not as a result of the fan poll.
However, during a livestream of the game, the developers discussed the poll and stated that the results will be taken into account by nWay, though the impact was not specified.[14]
On 24 September 2019, Shadow Ranger, the poll winner, was confirmed to join the Season 2 roster. Also announced was the Quantum Ranger (who placed 9th) and Dai Shi/"Jarrod" (who placed 24th). White Ranger Tommy Oliver was also confirmed to be added as a skin over the Green Ranger version of Tommy.
On May 25, 2020, Wolf Ranger is confirmed, accompanied by Red Samurai version of Lauren, and an originally silhouetted Scorpina.

Prior to her full announcement on September 24, 2020, Scorpina's appearance was originally being shrouded with silhouette for surprising purposes.

The Mighty Morphin Red Ranger, Super Megaforce Yellow Ranger and Time Force Pink Ranger are the only playable characters that appear as regular team members at the start of their respective season.

Dragon Armor Trini does not have this distinction, despite being Trini Kwan wearing Black Dragon armor, as this version of the character is introduced in a later issue of the 2016 comic series.
Udonna, despite appearing as a ranger in the first episode of Mystic Force, is not a regular team member and does not hold this distinction.
Whilst Ranger Slayer does not hold this distinction, her Mighty Morphin Pink Ranger costume does. Despite this, they can be team-up with each other in story mode, but not in regular modes.

Being developed by veterans fighting game players for games such as Marvel vs. Capcom, the game features a few references from not just MvC, but from other fighting games developed by other companies than just Capcom.
Tommy Oliver and Kimberly Hart are the only characters with different unique features when changing to different forms:

Kimberly's dialogues and winning animations change in both Ranger Slayer and MMPR Pink Ranger costumes. Despite this, the announcer still calls her by her real name, rather than different Ranger form, once she is selected in character select before selecting one of her Ranger forms.
Tommy's Megazord is depicted as the Dragonzord in his original and V2 costumes, but is changed to the Tigerzord in Warrior mode for his White Ranger costume.

Tony Porter serves as not only the sound designer for the game, but he also provides the voice for Dai Shi, with his daughter, Angelica voices Lauren Shiba.
The guest inclusion of Street Fighter Rangers Ryu and Chun-Li has been acknowledged to appear in this game as well since Legacy Wars, and were soon made playable.

Unlike in Legacy Wars, which reuse Japanese voice archives of Street Fighter V, Street Fighter Rangers not only reuse English voice archives of the fifth game, also being given new voice lines for this game.
Street Fighter Rangers in this game retain not only Street Fighter V move assets and some damage, also from 2.5D Marvel vs. Capcom, including Super Smash Bros. series.
Websites
References
Community content is available under
CC-BY-SA
unless otherwise noted.