"Wow. My baby brother is a Power Ranger"

―Porter Clarke
Porter Clarke is Shane's older brother. Porter is a successful businessman. He was concerned about Shane's seeming lack of a sense of responsibility and paid him a visit, lecturing his younger brother on the matter.
Biography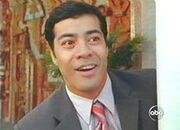 After accidentally discovering that Shane was the Red Ranger, however, Porter gained significant respect for Shane, realizing the measure of responsibility that his younger brother had taken upon himself. This encounter is important in Power Rangers history for it shows that not only is the existence of Power Rangers known to the world at large but that people are also aware of specifics regarding them.
Porter was especially proud of the fact that not only was Shane a Power Ranger but that he was the Red Ranger, acknowledging the fact that Red Rangers are traditionally the leaders of Power Rangers teams.Eye of the Storm
Family
Notes
Community content is available under
CC-BY-SA
unless otherwise noted.