"Not trash!"
―Catchphrase
The Poltergeist Minosaur (ポルターガイストマイナソー, Porutāgaisuto Mainasō) is a poltergeist-themed Minosaur monster from the Warfare Tribe Druidon, created from the emotions of a stuffed Stegosaurus toy named Gao-kun, based on its despair at being thrown away.
Character History
to be added
Personality
to be added
Powers and Abilities
Durability: The Poltergeist Minosaur has thick rock-like skin to withstand attacks.
Absorption: The Poltergeist Minosaur can assimilate any object into its body.

Poison Gas Emission: After receiving attacks, the Poltergeist Minosaur can generate a poisonous gas that weakens its opponents.

Poison Blast: The Poltergeist Minosaur can generate its poison gas as a dark purple blast and launch it from its hands.

Poison Ball: The Poltergeist Minosaur can combine all the objects it absorbed into a large ball of poisonous gas.
Size Alteration: The Poltergeist Minosaur can increase its height without the aid of its host's negative energy.
Weakness
Hope Empowerment: As Canalo inspired Gao-kun to never give up, the Stegosaurus toy generated hope that counteracted the Poltergeist Minosaur's accumulated despair in its body, paralyzing it.
Minosaur Info
Minosaur Attribute: Undead Monster
Place of Distribution: Laughing Trash Dump
Experience Point: 503
Behind the Scenes
Portrayal
Notes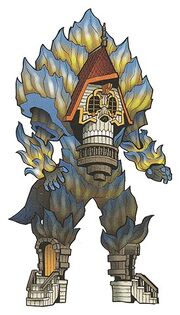 The Poltergeist Minosaur is a repainted and modified version of the Troll Minosaur.
This Minosaur is based on a poltergeist, a type of ghost or spirit that is responsible for physical disturbances, such as loud noises & objects being moved or destroyed.
The Poltergeist Minosaur is similar to Trash Dimension from Chojin Sentai Jetman as both are created from toys that have been thrown out

However, Gao-kun did not belong to any of the Ryusoulgers when Pooh was Jet Swallow's.

The Poltergeist Minosaur's design suggests a haunted house as a secondary motif.

Due to it having a building-like motif, The Poltergeist Minosaur draws some similarities to the House Dimension from Jetman and the Mansion Bōma from Turboranger.

The skull face on the Poltergeist Minosaur is similar to the Skullmastars from Kamen Rider Black RX.
See Also
References
Community content is available under
CC-BY-SA
unless otherwise noted.