Poacher Master Hunter (密猟者・マスターハンター, Mitsuryōsha Masutā Hantā, 30, 38): He was released by Gien to track down the V-Rex. He was able to partially control it with a spear, which had a small joystick-like remote control on it. He later enlarged himself so he and V-Rex could double team Shadow Alpha. Once TimeFire freed it of Master Hunter's control, the V-Rex assumed V-Rex Robo form and brought Master Hunter into custody.
Hunter is one of multiple Londerz Prisoners dreamed by Sion to have been revived to make Activist of Spirit Glokun's movie depicting the end of the Timerangers.Case File 38: Good Night
Poacher Master Hunter's motif is the one of a Hunter and a Poacher
Depression Seals Location: Left thigh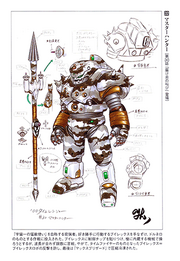 See Also
Community content is available under
CC-BY-SA
unless otherwise noted.