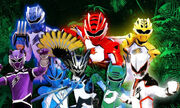 PLEX is a design company that produces material used in Super Sentai and Power Rangers as well as a variety of other shows. [1]
PLEX developed from Popy, the toy company that originally produced Sentai toys. When the licensing of toys moved to Bandai Japan, PLEX began handling all of the designs for the show- namely suits, weapons, mechas, robos, villains and anything visual, especially those to be developed into toys.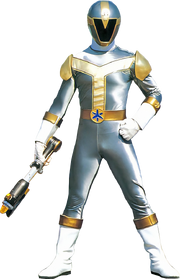 PLEX works closely in Japan with Toei Company and Bandai. As of Lightspeed Rescue, PLEX also officially began working with Saban to develop new elements for the show that matched the original concepts in Sentai to be carried over to Power Rangers. One of the earliest projects was Titanium Ranger and his arsenal for Lightspeed Rescue, as GoGo-V did not have any references to a sixth ranger.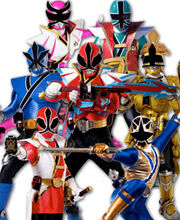 As PLEX continued to develop elements in Sentai properties, they also continued to assist in the adaptations to Power Rangers. PLEX designed the Spirit Rangers for Jungle Fury, as well as the Mega Mode for Power Rangers Samurai. The Mega Mode was an opportunity for additional 'ranger forms' in toy form, as footage for the cockpits in Shinkenger were deemed replaceable. At Pacific Media Expo in 2011, Tsuyoshi Nonaka, one of PLEX's lead designers explained that the Mega Mode's design was usually reserved for Kamen Riders, and was inspired by Saban's own designs for Mighty Morphin Power Rangers: The Movie. [2] The designs carried over back to Japan when Power Rangers Samurai was dubbed.
See Also
References
External links
Community content is available under
CC-BY-SA
unless otherwise noted.