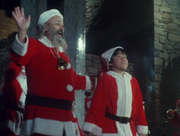 Oumukade (オオムカデ, Ōmukade, 45 & 53)
Character History
A giant centipede Youkai who battled with Ninjaman and the Kakurangers at the North Pole. In ancient times, he was huge. In modern times, he is clad in an American football player's armor and uniform. He can disguise himself to look like Santa Claus. His scheme was to put centipedes in children's Christmas presents, which would burrow into their skin and put them under his control. He planned to use the brainwashed kids to cause chaos and destruction. His presents were destroyed by Ninja Red. Killed by Samuraiman & Kakure Daishogun. Ep. 45: The Confused Santa
Oumukade reappeared, along with all the other defeated Youkai, within the Seal Door after their master Daimaou was finally contained there by the Kakurangers. Reeling that they were now powerless in captivity, the Youkai all vowed that they would one day be reborn and regain their power, cursing humanity. Final Ep.: Sealing!!
Personality
to be added
Modus and Arsenal
Centipede Punch
Centipede Ball - Oumukade's personal weapon. Looks like a cross between a centipede and a football. He can kick it and strike his opponents with it.
Centipede Missile - Can launch the centipede-themed rockets on his back at opponents, which would explode upon impact.
Notes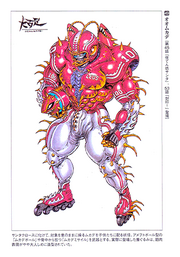 Speaks some English, similar to Ninja Black.
Portrayal
Behind the Scenes
See Also
References
Community content is available under
CC-BY-SA
unless otherwise noted.