"Tricera Fury, Blue Ranger!"
―Roll call[src]
"Stego Fury, Black!"
―Alternate roll
Ollie Akana is the son of archaeologist, Dr. Lani Akana, who becomes the second Dino Fury Blue Ranger, and the second Blue Ranger of the Dino Fury Rangers.
History
Becoming a Power Ranger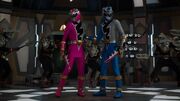 Ollie and his mother went to discover the mysterious Dinohenge, but also ended up meeting with Amelia after he was shot by her electromagnetic net-gun. They witnessed the Void Knight break into a mysterious underground base and followed him to find a strange futuristic underground facility and the Void Knight confronted a Solonsaurus named Solon and a strange Red Ranger. After the Void Knight threatened Solon, Ollie intervened with a Chromafury Saber that he got off the wall and Amelia shot him with her Spook Snare. However, when Solon tried to give them the Hengemen Key, the Void Knight caught it and used it to turn them into his foot soldiers. Amelia and Ollie were overwhelmed and cornered until the Sabers equipped them with the Dino Fury Morphers. Solon equipped them with their Dino Fury Keys and they used them to transform. Together with the help of the newly reawakened Zayto, they defeated the Hengemen and forced the Void Knight to flee. Zayto then revealed the history of the Dino Fury Rangers and both Amelia and Ollie agreed to become permanent Power Rangers.

TV STORY-Destination Dinohenge
His refusal to listen to Zayto leads to him putting his own mother in danger. Luckily, he realizes the importance of teamwork.
Later Adventures
During a camping trip, he shows off high tech gear that the rest of the team regards as useless. None the less, he tries to fashion an arrow from the devices in order to bring down Void Knight's balloon when it jams all communications in town, including the Rangers' teleportation. Despite an initial failure, he succeeds in destroying the balloon with a crossbow.
After Amelia's anger is increased by Tombtress's Mood Blast and she blames everything on him, he himself becomes a victim of the Mood Blast, which makes him unreasonably happy. He is cured of this when Tombtress is destroyed.
Void Knight's Endgame & Identity Exposed
Ollie, along with the other Rangers, would observe his mom luring in Void Knight's crew to sabotage their plans. However, it immediately went awry and Zayto had to save her. He and the remaining Rangers then fight against Boomtower one last time. He managed to escape capture by Void Knight.
He would later arrive in Dinohenge and witness Void Knight's scheme of using the Morphin Grid to power his machine. Ollie would then work together with his mom to save the others, using Sprint Dino Key to destroy both the statues of Dinohenge and sleepy cuffs on the Rangers. However, his actions caused their connection to Morphin Grid to be severed and thus had his secret identity exposed to his mom.
After the team defeated Void Knight, Ollie reunites with his mom, who is so proud of him. He and the other Rangers would later have their powers and connection to the Grid restored by the Green Morphin Master, before morphing with the team to deal with a Sporix Beast.
Personality
Ollie is confident, logical, sensible, and never afraid to share his opinions on any matter. He's also a bit impetuous, at one point going off on his own to find Sporix without his teammates' assistance. However, his disbelief in the superstition can come across as rude towards the Rangers, especially on Amelia, who is a believer on ideals like that.

Family
Powers and Abilities
Martial Arts Experience: Ollie has three-years of karate experience prior to becoming a Ranger.
Fencing: Ollie has six-years of fencing experience prior to becoming a Ranger, which he utilizes when wielding a Chromafury Saber in battle.
Master Tactician: Ollie is able to come up with good battle plans, which he demonstrated during the Megazord fight against Vypeera by using the abilities of the Zords and Boost Keys to block her chest eyes.
Forms
Morph and Roll Call
Dino Fury Key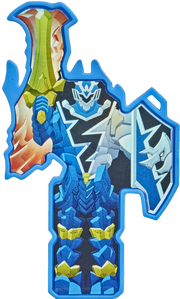 The Dino Fury Blue Ranger Key is based on the Dino Fury Blue Ranger. Using this key in the Dino Fury Morpher lets him transform into his perspective Ranger form. This key is only exclusive by Hasbro toyline.

Behind the Scenes
"Ollie is a confident, logical skeptic who's never afraid to share his opinion and always needs to prove he's right. Growing up, he traveled the globe with his archaeologist mom, Dr. Akana. Ollie doesn't believe that there's anything that can't be proven or explained by science.[2]"
―Official description from PR website.[src]
Portrayal
Concept Art
Appearances
See Also
References