Doctor Strange in The Multiverse o Madness - The Loop
Play Sound
Officer Tate was the father of Schuyler Tate and a Red Ranger.
Biography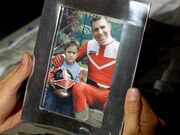 Officer Tate apparently helped create the Delta Morphers, along with the parents of the other B-Squad Rangers and Kat Manx and due to this his DNA was altered. As a result, his son was born with the ability to create force fields. He was once called to an intense battle, and saved dozens of people, but he ultimately lost his life to a criminal named Mirloc. Mirloc was later contained and sent to a special prison facility. His helmet was found and given to his son Sky after his death. Mirloc later escaped but was recaptured by Sky himself in battle.
Family Members
S.P.D. Red Ranger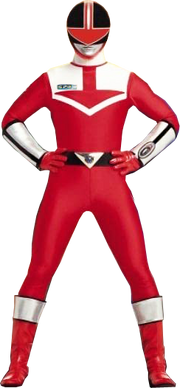 Zords
Tate presumably piloted some sort of Zord before his death likely reminiscent of primitive S.P.D technology.
Arsenal
Tate presumably utilized an array of weapons before his death likely reminiscent of primitive S.P.D technology.
Notes
His suit resembles that of Wesley Collins. This is due to Disney re-using suits and props from previous series. Supposedly the writers wanted Officer Tate to have a unique suit, however Disney denied their request. The suit is mostly unaltered save for a S.P.D. logo on the chest, helmet and right shoulder. This led some fans to assume that Wesley was Sky's father at first. This was, however, not true, as Officer Tate was serving with S.P.D. in the year 2001, the same year Time Force occurred, where he and the other 5 to 11 parents of the six S.P.D. Rangers suffered an accident and had their DNA mutated, resulting in the S.P.D. Rangers having unusual powers for humans.
In order of series Officer Tate is the first Red Ranger whose son also became a Red Ranger after him, the next was Mr. Shiba from Power Rangers Samurai though chronologically he is actually the second. The third is Dane Romero from Power Rangers Ninja Steel.
He is also one of the Rangers who has died and not been resurrected in any sort of way. The one responsible for his death was Mirloc.
It is possible that the design of the suit was based on that of the Time Force Rangers. However, the technology would be considered to not have the same powers as that of the Rangers of the 31st Century.
Appearances
References