Nurarihyon (ヌラリヒョン, Nurarihyon) was the leader of the Youkai Army Corps during Japan's feudal period.
Character History
After Daimaou was sealed behind the Seal Door by the three holy men that would become the Three God Generals a millenia ago, the Youkai turned to Nurarihyon to lead them. However, he suffered the same fate six centuries later at the hands of five legendary ninja: Sasuke Sarutobi, Saizou Kirigakure, Seikai Miyoshi, Jiraiya, and Tsuruhime, the ancestors of the Kakurangers.
His fate remains unknown, as he is never seen again after being sealed but it's likely that he was killed by Daimaou for his failure or, more likely, to ensure absolute loyalty to him.
Powers and abilities
Strength-Nuraihyon was strong enough to become the Youkai leader after Daimaou was sealed away. In battle, he knocked down two of the ancestor with one punch.
Expert Swordsman-Nurarihyon was able to fight and match the five ancestors at once despite being heavily outnumbered.
Human Transformation-Like many Youkai, Nurarihyon can transform into a human form.
Teleportation-Nurarihyon can teleport himself and other beings to different locations at will.
Arsenal
Katana-Nurarihyon wielded a big katana in combat against the ancestors.
Notes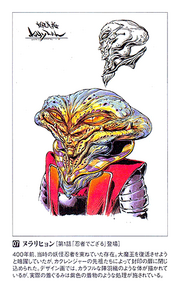 Behind the Scenes
Portrayal
Notes
Nurarihyon is, like all Kakuranger Yokai, based on a creature from Japanese mythology, in this case, he is based on Nurarihyon, a creature usually depicted as an old man with a gourd-shaped head and wearing a kesa sometimes said to be leader of the yōkai, although he bears little resemblance to the original stories.
Although Nuraihyon's head was used in Season 3 of Mighty Morphin Power Rangers for the Inciserator monster, his costume was butchered and none of his footage was used.
See also
References
Community content is available under
CC-BY-SA
unless otherwise noted.