Cobra Kai Season 4 - The Loop
Play Sound
Nobuta-san (ノブ太さん, Nobuta-san) is Kyoryu Blue (キョウリュウブルー, Kyōryū Burū) of the future Kyoryugers, 100 years after the original Kyoryuger team was formed. He is the grandson of Rika Fukui.
Nobuta-san was given the powers of the previous Armored Brave to become Kyoryu Blue and, unlike the other future Kyoryugers, retains them after his team acquires the powers of the original Kyoryuger team. This is because, unlike his teammates, Nobuta-san is the only future Kyoryuger has the right color remembered by Wise God Candelilla when the team started.
Character History
Nobuta-san is Rika Fukui's grandson who transforms into Kyoryu Blue using the Stegotchi Zyudenchi. He has a very strong Tohoku accent.

Family
Kyoryu Blue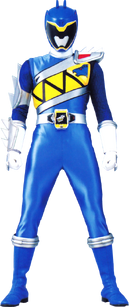 "Gaburincho: Stegotchi!"
―Transformation announcement
Nobuta was the only one able to transform into the color he was destined to inherit and accepted by his Zyudenryu at the very beginning of his history with the team. Nobuta is marginally more powerful than his ancestor by at least one Zyudenchi. While the original Kyoryu Blue could transform with one Zyudenchi into his ranger form and use another Zyudenchi to enter Armed On (アームドオン, Āmudo On), Nobuta uses one Zyudenchi to enter this form immediately upon transformation. He is also able to summon his Zyuden Arms weapon, the Stego Shield, at will any time after transforming.
Arsenal
Mecha
Transformation and Roll Call
Behind the Scenes
Portrayal
Nobuta-san is portrayed by Yamato Kinjo (金城 大和, Kinjō Yamato) who also portrays his ancestor's uncle in the series.
Sentai Notes
See also
References