"AkibaRed!"
―AkibaRed's role call
Nobuo Akagi (赤木 信夫, Akagi Nobuo) is AkibaRed (アキバレッド, AkibaReddo), the leader of the Akibarangers.
Biography
He is an average (if very delusional and eccentric) man working at Sasaki's Ponpoko Delivery Services. He is already 29 years old, and he still loves Super Sentai. Lately, he has also been getting into the anime "Z-Cune Aoi", to the point where he got guilt-ridden for attempting to buy a Great Five toy after seeing Aoi merchandise, namely a cardboard cutout.
His legs are trained from running around for his delivery work, but unfortunately, being a messenger, his body isn't trained for battle. With years of Super Sentai knowledge, he easily sees through the weaknesses and strategies of monsters, as well as see the cliches the villains make. He is described to be a "virgin" in recent information released about him.
He excels in the "delusion power" that powers the Akibarangers in combat.

AkibaRed
Roll calls
Unlike the Sentai heroes he emulates, as AkibaRed, Nobuo decides to alter his roll call on each occurrence. He states his designation ("AkibaRed!" or "Super AkibaRed!"). However, before this, he states one of his personal Sentai superlatives. He also imitates the poses of Sentai heroes during his roll calls. The only time there was no role call was in Season 1's Ep. 11: The Second Generation is a Fresh and Painless Warrior, Season 2's Ep. 9: A Second Delusion and Ep. 11: Delusional Cemetery.
Season 1
Season 2
Behind the scenes
Portrayal
Nobuo Akagi is played by Masato Wada (和田 正人, Wada Masato). As AkibaRed, his suit actor is Sanshiro Wada (和田 三四郎, Wada Sanshirō). Note that Masato's suit actor has the same last name as him. Masato also sings the ending theme for the series "Ashita wa Akiba no Kaze ga Fuku" (明日はアキバの風が吹く? "Akiba's Wind Will Blow Tomorrow").
Sentai notes

In popular culture
A character resembling Nobuo Akagi is seen in the seventh episode of "Kono Naka ni Hitori Imouto ga Iru".
Ranger Key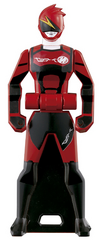 The AkibaRed Ranger Key (アキバレッドキー, AkibaReddo Kī) is an Akibaranger Ranger Key which is part of the Akibaranger Ranger Keys. It only exists as a toy and it is unknown if it will appear in the series. Of course as with all Ranger Keys, should it exist, it would be able to transform one, i.e. Gokai Red, into AkibaRed.
Appearances
Community content is available under
CC-BY-SA
unless otherwise noted.