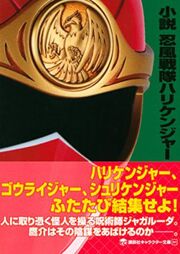 Ninpu Sentai Hurricaneger is a novel based off the television series of the same name, will released on June 27, 2014. This 288-page novel is written by Junichi Miyashita, who is the main author for Hurricaneger.[1]
Summary
From the book's obi and summary:
"Hurricanegers, Gouraigers, Shurikenger! Assemble once again!
The Shaman Jagaruda controls monsters that can possess people. Will Yosuke be able to eliminate this threat…?
Strange occurrences start around the Hurricanegers… At first sight, they may seem like isolated incidents, however, they were part all a plot by Shaman Jagaruda to conquer the universe. Will Yousuke, Nanami and Kōta, the Hurricanegers; along with Ikko and Isshu, the Gouragers; join forces and manage to stop this evil plan?!"[1]
References
Community content is available under
CC-BY-SA
unless otherwise noted.