"NeziYellow!"
―NeziYellow's roll call[src]
NeziYellow (ネジイエロー, Nejiierō, 38-43, 47 & 48) is a member of the Nezirangers.
History
The most deceptive member of the team and the rival of NeziPink who is armed with NeziSling (ネジスリング, Nejisuringu). Her true form is a spider monster called NeziSophia (ネジソフィア, Nejisofia) and could also assume a human form. During the final battle she had her free will removed, and was only obsessed with killing the Megaranger. Killed by Super Galaxy Mega, Mega Voyager and Mega Winger, later killed for good after being turned into a DataCard.
Super Sentai Battle Base
NeziYellow is among the vast pantheon of villains/Rangers which are available in the mobile game Super Sentai Battle Base.
Personality
to be added
Forms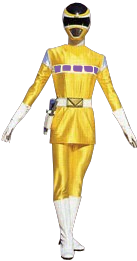 Attack Power: 280
Defense Power: 300
Speed: 350 (5.0sec/100m)
Jump Height: 20m
NeziSling
Behind the Scenes
Portrayal
to be added
Design
NeziYellow was designed by character designer Osamu Abe.
Concept Art
Etymology
to be added
Notes
Appearances
See Also
References