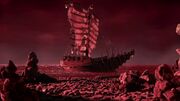 The Netherworld is a place from where the adversaries of the Samurai Rangers reside.
Description
Information on the world is limited, but it is known that the Sanzu River is located here. The river is a toxic plane composed of the tears of humans. The water level rises any time a human is in some sort of distress; Master Xandred exploits this fact to raise the river level using his Nighlock Army. He plans to flood the Earth with the evil water of the Sanzu, giving him an avenue of escape.
Known inhabitants
The monsters that might be from the Netherworld are-
Community content is available under
CC-BY-SA
unless otherwise noted.