description to be added
Character History
Nendogami (ネンドガミ, Nendogami, 14): Created from old dark clay and a new camera. Able to change his own figure freely like clay, create grenades from his clay, with his camera arm able to change memories and dreams in people's minds, as well as able to change existence itself. He was disguised as Natsuki's younger sister "Miria" (although it is not known whether there is such a person), and planted fake memory in Natsuki, as well as giving her a bracelet exactly like her own, which turned out to be a mind controlling device. Natsuki, who was deceived, pounced on Masumi and the other Boukengers. It was only Masumi admitting his love for Natsuki and the destroying of the bracelet that freed her. After being defeated by the Dual Crasher (used by BoukenYellow), the giant Nendogami tried to avoid being terminated by Super DaiBouken by taking Masumi's human form, thinking that because he looked like Masumi, the Boukengers wouldn't attack him, but this desperate act was in vain. Natsuki wasn't fooled, as she instantly realized that Masumi was sitting right next to her, and was not normally over 30 stories tall.
Personality
to be added
Modus and Arsenal
Notes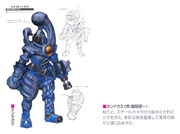 Portrayal
Behind the Scenes
See Also
References
Community content is available under
CC-BY-SA
unless otherwise noted.