"I like it, straight to the point."

―Needletron's first words.
"Cannon?! Wait! Aaaah!"

―Needletron's last words.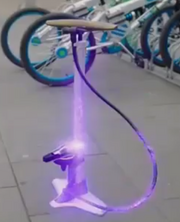 Needletron is a needle-themed Robotron created by Blaze from a bicycle pump in Power Rangers Beast Morphers.
Character History
Needletron is a
Robotron
 created by 
Avatar Blaze
when he infected a bicycle pump. He was tasked with stealing Morph X from X bikes. He is destroyed by 
Zoey
 and the newly formed Beast-X Cannon. Despite his defeat, his arm that contained the stolen Morph X survived and was later used to continue on with Blaze's plan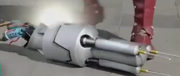 . But to his dismay, the Rangers blasted the arm and destroyed the remains of Needletron. Afterwards, 
Scrozzle
 used the stolen Morph X, Needletron's data and a
Gigadrone Type Beta
 to create 
Needledrone
 and was destroyed by the
Racer Zord
.
End of the Road
Personality
Needletron doesn't show much personality, other than being confident and direct. He speaks with many puns related to sharpness.
Powers and Abilities
Strength: Needletron is one of the stronger robotrons, being able to take down the Red and Blue rangers with ease.
Arsenal
Arm Needles-Needletron has heroes for a right hand to aid him in combat.

Needle Blast: He can fire a turquoise blast from his arm. It is strong enough to make the Red and Blue Rangers de-morph.
Morph X Extraction' With his needle-like arm he can extract the Morph X from the X towers.
"Laser: He can fire a weaker blue laser from his arm.
Behind the Scenes
Portrayal
Notes
See Also
References
Community content is available under
CC-BY-SA
unless otherwise noted.