"Those humans are trapped in my monitor world, moni!"

―Monitor Org's first words
"When a tiger dies, it leaves its pelt behind. When a monitor breaks, it leaves its remote control behind!"
―Monitor Org's final words before its death
"Monitor!"
―Monitor Org's final words before its initial demise and being enlarged.
An Org Spirit acquiring a monitor and various pieces of garbage, Monitor Org was able to trap people in any monitor as part of Rasetsu's plan to ally Futaro. Learning the Org's weakness is his remote control hand, GaoSilver and GaoRed cripple the Org before killing him with their trademark attacks, freeing everyone he captured. TsueTsue revives the Org, who GaoKing destroys. But a piece of Monitor Org attaches to GaoKing, giving Rasetsu control in order to force Futaro to reveal himself as GaoGod, who uses his Power Arrow to destroy the control device.
Notes
Conception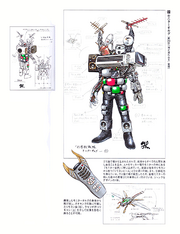 See Also
Community content is available under
CC-BY-SA
unless otherwise noted.