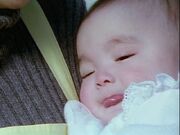 Mirai Moriyama (森山 未来, Moriyama Mirai), initially named as Domon Junior (ドモンジュニア, Domon Junia), is the son of Honami Moriyama and 30th century time traveler Domon/TimeYellow.
History
Timeranger
Domon Junior was born in the year 2001, having been conceived at some point not long before February 4th of that year, when his father Domon returned to his own time a thousand years into the future with his fellow Timerangers following the Great Annihilation. Evidently, neither he nor Honami were aware she was pregnant at the time. One year later, Tatsuya Asami caught up with Honami and her son.

TV STORY-Case File 50: To an Infinite Tomorrow
Gokaiger
On October 2, 2010, Mirai Moriyama met the Gokaigers, who had traveled back in time on a mission given to them by Domon. He was a lonely boy who had no friends due to his mother's work forcing them to move often. Gai sympathized with him, but encouraged him to make friends. When the Gokaigers completed their mission to save the Negakure Temple, they took a picture with Mirai and his mother as proof. It was this photo that informed Domon that he was a father.

TV STORY-Ep. 40: The Future is the Past
Behind the scenes
Portrayal
Mirai Moriyama is portrayed by Asuka Komiya (小宮 明日翔, Komiya Asuka). The infant Domon Junior was portrayed by Yoshinori Odagiri (小田桐良徳, Odagiri Yoshinori).
Appearances