description to be added
Character History
Mikean Clord (マイク星人クロード, Maiku Seijin Kurōdo, 37): He is charged on counts of mass murder and inhuman experimentation, taking the nutrients from young women. However, unlike most Alienizers, he is not one who performs crimes for their own selfish needs. Clord killed the women in order to cure his elder sister Mikean Teresa of a deadly disease. He posed as a boy with a blue rose (which is a manifestation of the nutrients he has extracted from his victims). Teresa is in love with Hoji, which angered Clord. Hoji is ordered to delete Clord in order to become a Tokkyou, but when told of Teresa's illness by Clord, he has second thoughts about his objective. Sadly, when Clord is about to kill another group of girls, Hoji instinctively shot him in the back with his D-Sniper, deleting him.
Personality
to be added
Modus and Arsenal
Notes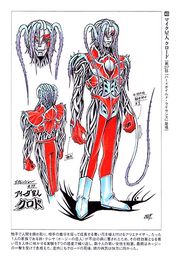 Portrayal
Behind the Scenes
References
External Links
See Also
Community content is available under
CC-BY-SA
unless otherwise noted.