Mighty Morphin Power Rangers Archive
is a publication by
Boom! Studios
that remasters and collects the comics published by Boom's predecessors. This is the first time these older comics have been published since their original publication and also the first time these comics are published digitally (not counting fan efforts or Papercutz's comics).
Comics featured in Volume 1
The comics are listed by story, not issue (ie. Grounded! and Stranger in a Strange Town each have their own listing instead of being under "Issue 5").[1][2]
Volume 1
Volume 2
MMPR Saga: The Saga of the Power Rangers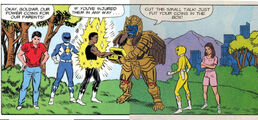 Main series
Issue 1: Reach Out and Crash Someone/The Copy Catastrophe (September 7th, 1995)
Issue 2: Playing Dirty/A Simple Misunderstanding (November 2nd, 1995)
Issue 3: I'd Like to Be Under the Sea/Most Valuable Slayer! (November 24th, 1995)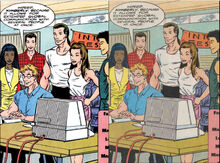 Ninja Rangers
These comics were two-in-one, the 2nd being a VR Troopers story. For the Archive collection however, the VR Trooper stories are not included.
Not included:
These comics were likely not included due to rights issues:
Mighty Morphin Power Rangers Fruit of the Loom® Premium #1 was a promotional comic made for and exclusively packaged with Mighty Morphin Power Rangers themed Fruit of the Loom® underwear.
The movie's copyright and license is owned by 20th Century Fox (Fox itself owned by Disney[3]; in any case, ownership of the movie has never coincided with ownership of the series).
Masked Rider's rights are now owned by Ishimori Productions due to the licensing expiring years ago (Megaforce/Super Megaforce had to credit Ishimori just to use Gokaiger footage that only had brief glimpses of the Gorenger and J.A.K.Q.suits)
Even if Masked Rider was still under Saban's control, it and VR Troopers simply don't fall under the Power Rangers franchise umbrella despite being sister shows.
Comics featured in Volume 2
As revealed on the Crusaders website.
Issue 1: With Friends Like These (September 1st, 1996; only issue)
Saban Powerhouse (Acclaim/Valiant)
Saban Powerhouse was a magazine published by Acclaim/Valiant featuring an anthology of comic stories revolving around characters from Saban, including the Turbo Power Rangers. The magazine was cancelled after only 3 issues.
Issue 1: Into The Fire (August 1997)
Issue 2: Simple Simon Says (1997)

see below about Power Rangers Turbo vs. Beetleborgs Metallix
Power Rangers Super Samurai
Mighty Morphin Power Rangers
Volume 1: Rita Repulsa's Attitude Adjustment (June 11th, 2014)
Volume 2: Going Green (November 26, 2014)
Power Rangers Megaforce
Despite adapting a different series, these comics continued the numbering from the Super Samurai comics.
Volume 3: Panic in the Parade/Game On! (August 21st, 2013)

Game On is not listed in the table of contents alongside or after Panic in the Parade but it is part of the issue (meaning Volume 2 differs from Volume 1 by not listing each story separately).

Volume 4: Broken World (December 4th, 2013)
Mighty Morphin Power Rangers
Issue 1 (March 2, 2016)

Like Game On, this issue is not listed in the table of contents. The only indication of its inclusion is that the activity pages is listed more that the 55 pages after Broken World, despite each Papercutz issue being exactly 55 pages.
Also included are activity pages, fan letters, and editor columns previously published in the original issues from Hamilton, Marvel, Image, and Papercutz.
Not included:
While it was expected Power Rangers Turbo vs. Beetleborgs Metallix

would be excluded from Volume 2 (for the same likely, albeit unconfirmed reasons as VR Troopers and Masked Rider; Beetleborgs being a separate intellectual property from Power Rangers and adapted from a series other than Super Sentai

), the reason By Bug... Betrayed was omitted is unknown and not apparent (it takes place during the TV series continuity and has no outside characters).
Errors
(All errors WITHIN the comics themselves should go under the issue in question's page; the Archive collection presents the comics as is and those errors are not Boom's doing)
The blurb for Volume 1 mentioned having comics from Image & Papercutz as well as having Alien Rangers and Zeo stories. Image and Papercutz are not in Volume 1, which precludes any Zeo story from appearing, and there are no comics before Boom's tenure that includes the Alien Rangers of Aquitar.
There were two errors within Volume 1:

In issue 2 of Hamilton's 2nd volume (The Yesterday Bomb), the page depicting the Rangers escaping through a time vortex is placed before the 2 pages depicting the Rangers setting up the vortex.
The last page of the 3rd Ninja Rangers issue (Dark Thunder) is missing.[4]

The Comixology version was updated and fixed these errors as of October 19, 2018 and the Kindle version was fixed as of November 17 of the same year. There was no recall for the physical edition of the archive.

While not an error per se, the artwork on the cover for Volume 2 is from a Marvel comic, which had its entire run collected in Volume 1 (minus the above exclusions). It also misrepresents as, unlike Volume 1, Volume 2 is mostly comics about teams other than the Mighty Morphin Power Rangers.
Notes
Volume 1 was originally scheduled to be released on June 27th, 2018. While the Comixology version went on sale as plan, the Kindle and physical version was delayed a week to July 3rd.
For all the covers in Volume 1, the Hamilton Comics and Marvel Comics logos in the top left corners are erased/covered up, likely for rights issues. For some covers, this includes very slight changes to the artwork in the top left corners where the logos originally were (those that had more that just a single color where the logos were). This is not repeated in Volume 2.
References
Community content is available under
CC-BY-SA
unless otherwise noted.