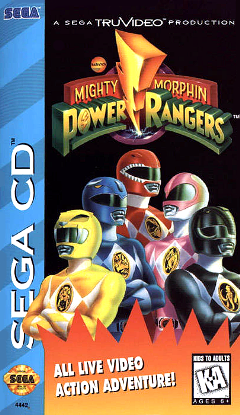 Mighty Morphin Power Rangers is a video game for the Sega CD console. It was produced by Sega TruVideo and released by Sega of America, Inc. in the United States and Europe in 1995. A FMV adventure game, it consists mostly of footage of both the Mighty Morphin' Power Rangers TV series and the action footage from Kyoryu Sentai Zyuranger. The player must press certain buttons at action sequences. The game features ten levels covering five different episodes ("Day of the Dumpster", "Green with Evil", "The Green Candle", "Crystal of Nightmares", and "Doomsday").
Cast
(All appearances are made through archive footage)
Game play
The game play is similar to that of the arcade game Dragon's Lair, as players have press certain buttons at precise moments throughout the game as they appear on screen. Giving the illusion that the player is controlling the Power Rangers. If the player misses or presses out at random, the game will make a buzz sound. The screen will shake and his or her health meter will drop. However there are points in the game where players can press a button unprompted for extra points. At the end of each level, the player's progress is tallied. At which the points earned will be used to refill his or her health meter and can even score an extra life. Health is also partially restored when the Rangers morph or form the Megazord. Footage use was episodes from the television series. This footage was heavily cut down for disc space and level length. As a result the five-part Green With Evil serial was turned into four small segments.
Levels
The game has a total of nine levels. Players will be able to play a certain number of levels depending on which difficulty setting they choose. Easy will allow five levels, normal will allow seven, and hard will allow all nine levels.
Reception
Currently the game hold a score on GameStats of 4.7.
Community content is available under
CC-BY-SA
unless otherwise noted.