Spider-Man: No Way Home Trailer Dropped - The Loop
Play Sound
Mighty Morphin Power Rangers/Teenage Mutant Ninja Turtles is a 2019 five-issue mini-series crossover by Boom! Studios and IDW Publishing featuring the characters from Boom's modern comic book incarnations of the Mighty Morphin Power Rangers and IDW's modern comic book incarnations of the Teenage Mutant Ninja Turtles. The first issue debuted in December 2019.
Synopsis
The Power Rangers arrive in New York City to find Tommy Oliver - AKA The Mighty Morphin Green Ranger - but soon discover he's joined forces with the villainous Shredder and the Foot Clan! As the Rangers are sent reeling by this betrayal, they're confronted by another (fr)enemy - the Teenage Mutant Ninja Turtles! Can these heroes find a way to work together to defeat the bad guys and save the world from total destruction?![1]
Plot
To be added
Characters
Mighty Morphin Power Rangers/Ninja Rangers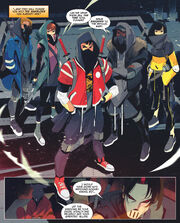 Allies
Teenage Mutant Ninja Turtles/Turtle Rangers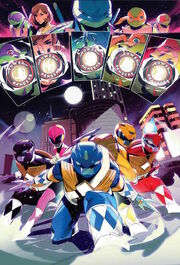 Allies
Enemies
Foot Clan
Karai

Bebop

Rocksteady

Baxter Stockman
Evil Space Aliens
Issues
Black and White Limited Editions
MMPR/TMNT Issue 1 was re-released entirely in a Black and White Limited Edition (as an homage to the TMNT Mirage comics of the 1980s) on January 29, 2020 in select comic book shops.
The entire five issue run of MMPR/TMNT was collected together and re-released in a Limited Edition Black and White Hard Cover book on November 11, 2020 in select comic book shops.
Notes
This crossover deals with both franchises in comic book continuities that differ from its original TV counterparts. Power Rangers is set in a more contemporary setting while Ninja Turtles meshes bits and pieces of its older lore with new stories and different directions for the characters. Both series televised installments coincidentally are both now broadcasting on Nickelodeon.
Unlike most major events in Power Rangers lore which are mentioned or adapted in the comics, this crossover series will ignore the Power Rangers In Space crossover along with the canonicity of Venus de Milo and Ninja Turtles: The Next Mutation series.
External Links
References