Mighty Morphin Power Rangers/Teenage Mutant Ninja Turtles is a 2019 five-issue mini-series crossover by Boom! Studios featuring the characters from Boom's modern comic book incarnations of the Mighty Morphin Power Rangers and IDW's modern comic book incarnations of the Teenage Mutant Ninja Turtles. The first issue debuted in December 2019.
Synopsis
The Power Rangers arrive in New York City to find Tommy Oliver - AKA The Mighty Morphin Green Ranger - but soon discover he's joined forces with the villainous Shredder and the Foot Clan! As the Rangers are sent reeling by this betrayal, they're confronted by another (fr)enemy - the Teenage Mutant Ninja Turtles! Can these heroes find a way to work together to defeat the bad guys and save the world from total destruction?![1]
Plot
to be added
Characters
Mighty Morphin Power Rangers/Ninja Rangers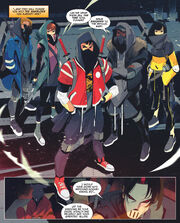 Allies
Teenage Mutant Ninja Turtles/Turtle Rangers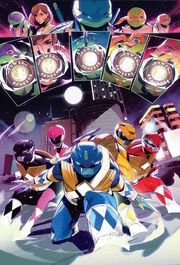 Allies
Enemies
Foot Clan
Evil Space Aliens
Issues
Notes
External Links
References
Community content is available under
CC-BY-SA
unless otherwise noted.